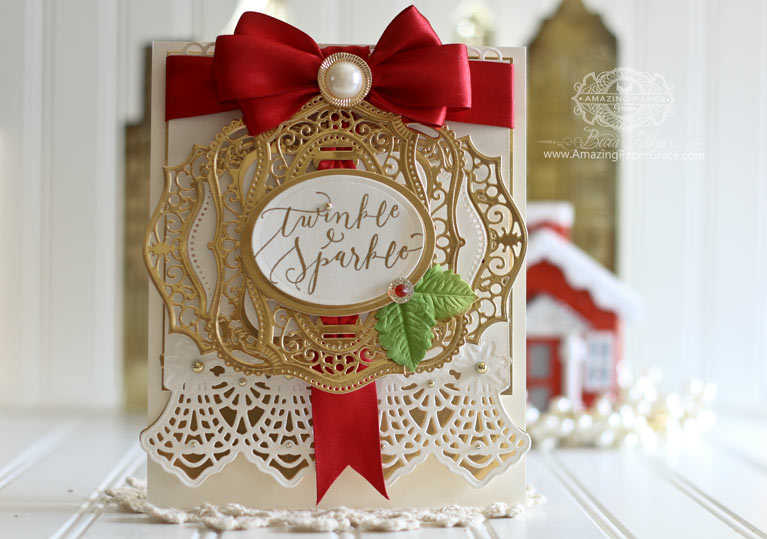 Sweet friends, no doubt you are done with your Christmas cards, right?  Lol, I have a teensy, tiny admission to make – this is my first real Christmas card of the season.  I know, I know, I'm a tad behind but my Christmas gifts are ready to go, so I'm an inch ahead of total panic.  Seriously though, I'm kicking about with a simple card for my list this year but every year I lay out a special card I can make for a handful of folks.  This one was my trial and I'm happy with it and more happy to say it is going out to one of your for Day of Giving Friday!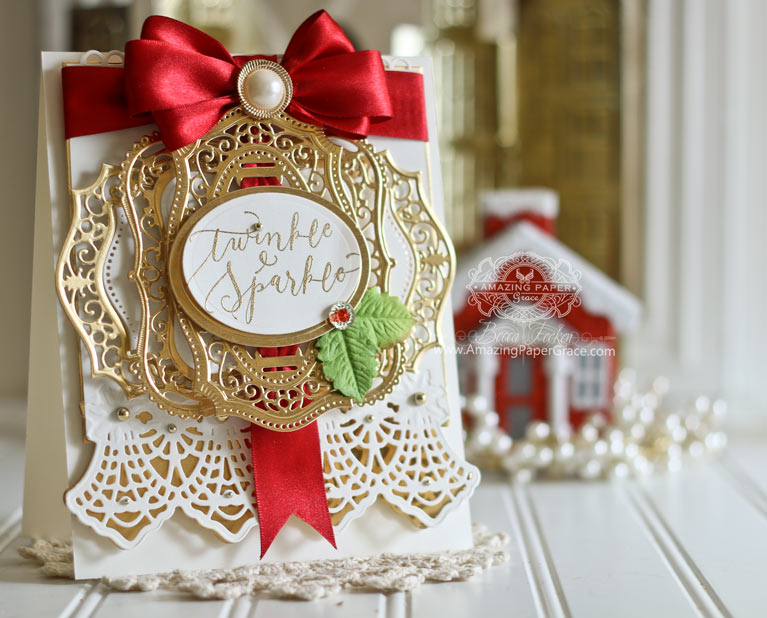 Just this week I received some wonderful new holiday greetings from Quietfire Design – this twinkle and sparkle sentiment is one of four in Bright Holiday Words!  The inspiration I started out with was Spellbinders Holiday Botanical Strip – I'm so tickled to add such an exquisite die to my collection and I foresee using it on quite a bit this holiday season including embellishments and tags.  Once I got my bottom layer in place, I dreamed of indulgent layers!!  Oh, and I wanted tried and true already in my stash…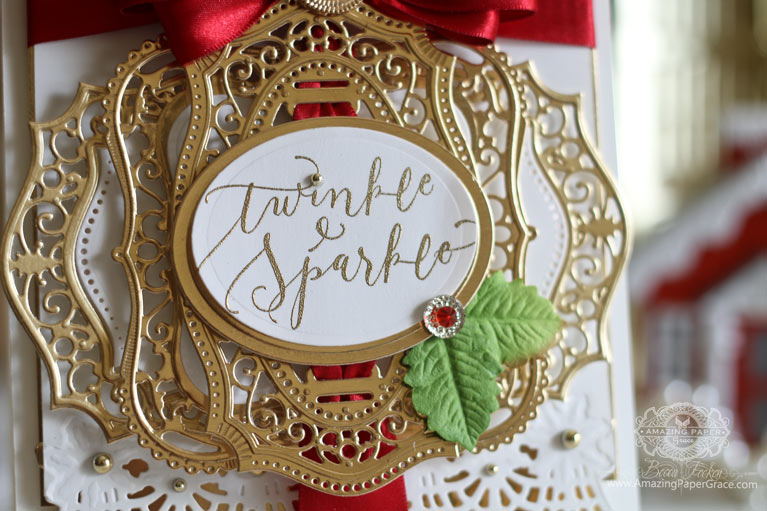 So  I toyed around with this layering combination that I just love.  On the bottom I used Spellbinders Majestic Labels Twenty Five in gold and the inside portion in cream – this was all turned to a landscape orientation.  On top of that I stacked Spellbinders Majestic Labels One in gold with the corresponding layer from Spellbinders Labels One in cream laying right on top.  Next another  layer from interior pieces of Spellbinders Majestic Labels One and then finally Spellbinders Classic Ovals LG and Spellbinders Classic Ovals SM.



I finished up with ribbon, pearls and a two sweet leafs to balance out the bling.  I hope I've inspired you to pair the new with the old and for goodness sake, don't be afraid to layer, the results can be stunning!
About Day of Giving Friday
For new readers, every Friday it's my pleasure to give away a card.   The card goes to a randomly picked reader (worldwide) who leaves a comment in our conversation. Want to know more about Day of Giving, here's a link to my FAQ's just check out #11.  You can check to see if your name is on the list of winners HERE.!  For your comment:  How far along are you on your holiday gifting?


Stamps:  Quietfire Design – Bright Holiday Words
Craft Paper:  Neenah Classic Crest – Natural White – Cover – 80lb smooth, The Fine Touch Gold Poster Board
Ink:   Versamark
Accessories:  Spellbinders Holiday Botanical Strip, Spellbinders Majestic Labels Twenty Five, Spellbinders Majestic Labels One, Spellbinders Labels One,  Spellbinders Classic Ovals LG, Spellbinders Classic Ovals SM,  Recollection Pearls, Paper Source Red Satin Ribbon, button from my stash


Lol, I'm in the mood to make Christmas cards now.  Stay tuned, more in the coming days :-)