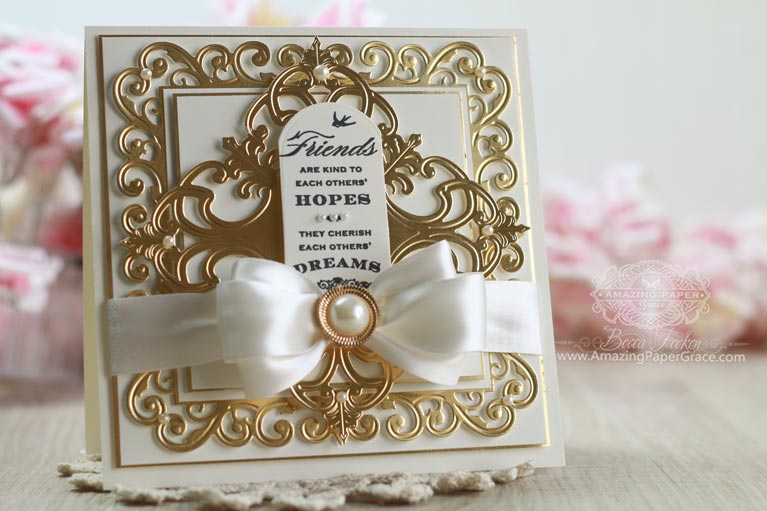 Hello y'all!  Spring really faked us out, hunh?  No worries, one thing I know for sure is that it is coming – I have good authority on that!  I'm curled up today with my hot coffee in my toasty sweats, looking outside and eagerly waiting for that day to come.  Even though it's nippy outside, inside my desk is full!
Today I'm sharing an easy card.  I used one die and I used two colors of paper.  All I did was cut the die, add some matting layers and add a sentiment, a bow and pearls.  That's it!!  So often I get comments that say something like I wish I could make that.  My whole point today is that you can and I want to encourage you to do it!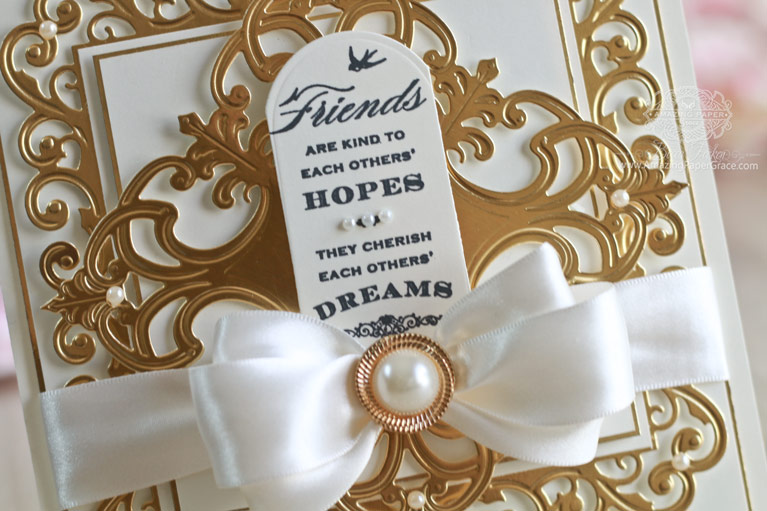 So on to my card for today.  This is a 6-1/2″ x 6-1/2″ layered card – I used Spellbinders Fleur De Square using the large square for my bottom latter and turning the smaller medium square on point for some dramatic contract.   Oops, I fibbed, I pulled in another die for the sentiment – I used Spellbinders Arched Swallowtail Pennants.  Lol, there's not much else to say except that this die is absolutely gorgeous – how easy it was to work with and I love making a card in less than an hour!!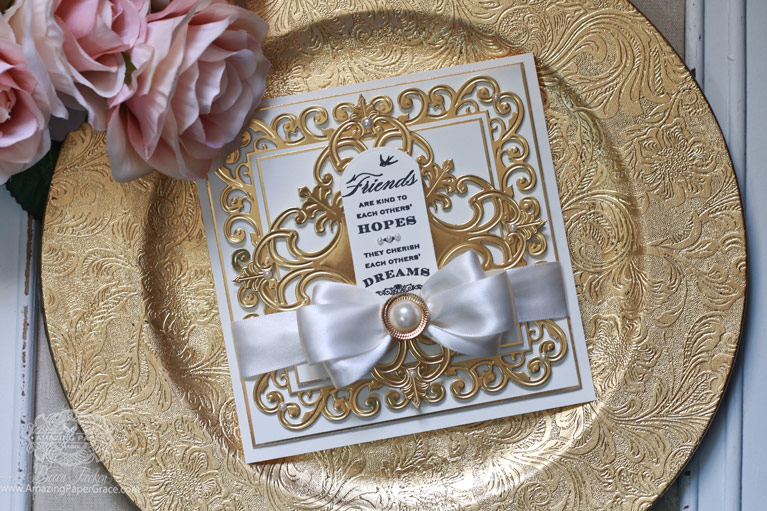 For new readers, every Friday it's my pleasure to give away a card.   The card goes to a randomly picked reader (worldwide) who leaves a comment in our conversation. Want to know more about Day of Giving, here's a link to my FAQ's just check out #11. You can check the list of winners HERE!
This is going to need an explanation – and the question this week is a tough one.  Don't answer if you don't want but I think about these things.  A sweet friend of mine passed away this week.  I've been travelling quite a bit and have been so unbelievably busy lately that I didn't have the chance to talk to her since December.  I didn't even know how sick she was.  Of course, in retrospect I regret that I was so busy.  I can't tell you now much she has been on my mind this week.  I do wish I had had an opportunity to visit her in person.  Had I visited, I know I would have gotten the sense of the gravity of her illness.  I'm full of prayer for my friend and at peace that she didn't have an extended time of suffering.  For your comment: What would you say to your friend if you knew you wouldn't see him or her again?


Stamps: Inkadinkado  
Paper:  Neenah Classic Crest – Natural White – Cover – 80lb smooth, Gold Poster Board
Ink: Colorbox Chalk Ink – Charcoal
Accessories: Spellbinders Fleur De Square, Spellbinders Arched Swallowtail Pennants, Silk Ribbon – The Paper Source, Recollection Pearls, button from my stash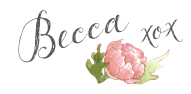 Thanks for stopping by friends.  Since my desk is full and I hope to back and soon!!