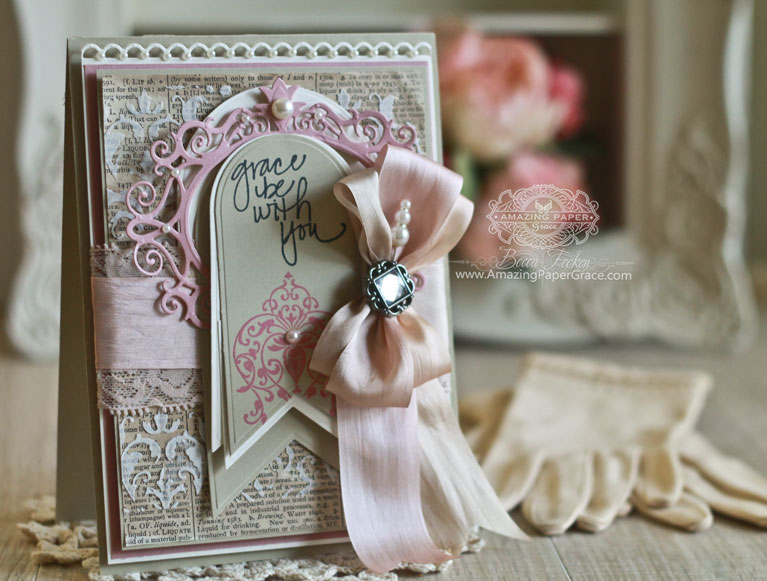 Hello sweet friends!  Truly, grace be with you . . . this is a stamp that has been sitting on the counter for some time.   I've always thought this was a lovely wish and a sweet thing to say to someone, so I'm saying it to you all.  I'm sharing a card with that sentiment today for Day of Giving Friday.  I've just finished a deadline that I've been working on for some time so today finds me optimistically looking forward to the days to come.  The days have been so full of 'have to do's' that maybe, just maybe in the next week or two, I'll be able to squeeze in a 'want to do'.  I hope you do that too!  'Me' time always makes you tick better.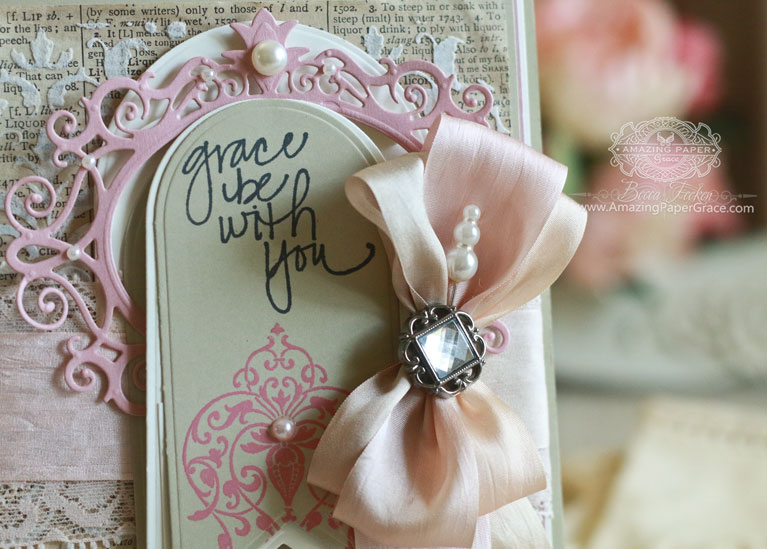 So on to my card for today.  This is a 5.5″ x 7.5″ layered card – I used Spellbinders Graceful Brackets for the petite scallops in the cream for a pop of color at the top of the card.  Next I layered on Spellbinders Arched Swallowtail Pennants in cream – the largest one, cut in half.  Next I layered on the second largest Arched Swallowtail Pennant (kraft colored) and then glued down  Spellbinders Oval Ironwork (in pink) on top.  Then lastly three layers of the third largest Arched Swallowtail Pennant.  I split one of the cream Pennants in half vertically and spread so that I would get a mat layer and then I did the same thing horizontally for a mat layer.  The last pennant (kraft colored) sits on top and is the place I put that lovely sentiment.
For new readers, every Friday it's my pleasure to give away a card.   The card goes to a randomly picked reader (worldwide) who leaves a comment in our conversation. Want to know more about Day of Giving, here's a link to my FAQ's just check out #11. You can check the list of winners HERE!  For your comment: Tell me about a time you witnessed an inspiring act of kindness.



Stamps: Stampabilities – Grace Be With You
Paper:  Neenah Classic Crest – Natural White – Cover – 80lb smooth, Coredinations – Concerto, Papertrey Ink – A
Ink: Colorbox Chalk Ink – Charcoal, Rouge
Accessories:  Spellbinders Graceful Brackets, Spellbinders Arched Swallowtail Pennants, Spellbinders Oval Ironwork, May Arts Silk Ribbon, Recollection Pearls, button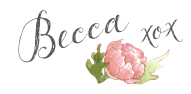 Thanks so much for stopping by!  I'll be popping back up soon!