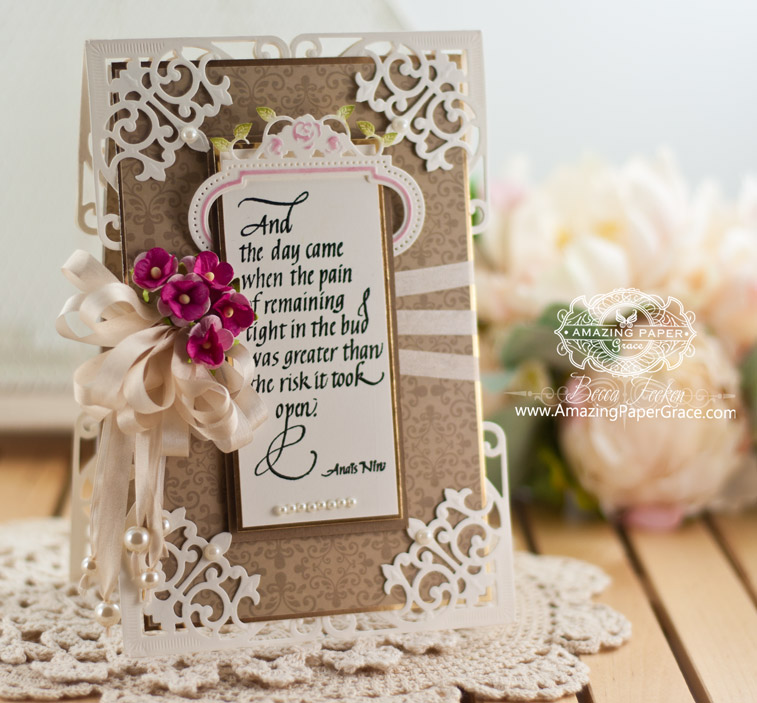 Hi there friends, so I wanted to change up things just a teensy tiny bit and offer a new card  and oh, a crafting tip!  Also, this is the card that's up for grabs!   The back story is that I simply needed to play at my desk, I pulled out one my favorite ever quotes from Quietfire Design called the And the Day Came.  I had this design in the back of my mind and it turned out better than I thought it would.  I've been cutting new dies too and shuffling them all over my desk – it's a good feeling.  (Just leave a comment on this post and I'll post the winner on the Giveaway page tomorrow.)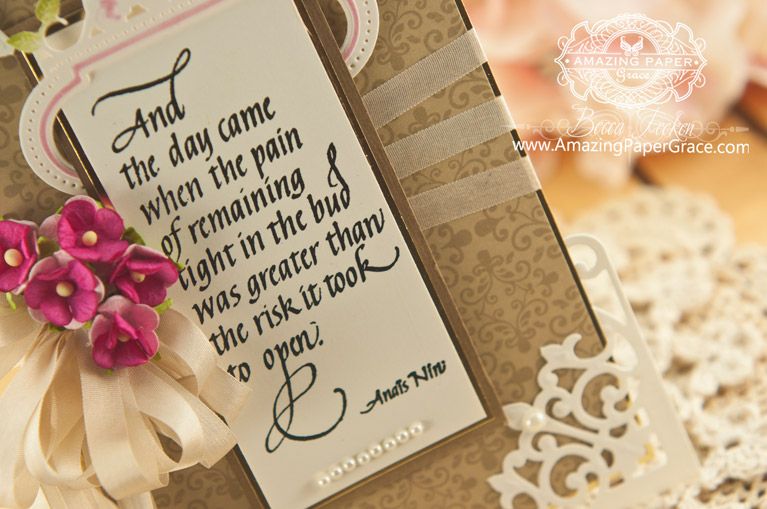 I used one of my all time favorite dies – Spellbinders Antique Corner – I have quite a few cards on the blog using this particular die template – and while you can see all the choices HERE, this time around I changed it up and made a rectangular card instead of square.  The size for this card is 5″ x 7-1/4″.  What I did different is I made three tiny snips in the die (see picture) so that I could slide it over the corner of my cardstock on the bottom four corners.  On the top, I ran the die through with two thicknesses (success depends on your machine and paper thickness) – just as I do in this Hinge Technique so that the two corners are connected (see picture).  Top front and top back are inserted into the snipped corners and the inside of the card is lined with the same pattered cardstock.  The pretty oval element that I threaded the sentiment though is called Spellbinders Victorian Tags Two.



Designer Tip:
Sometimes when you cut a die, especially the more intricate dies, tiny whiskers may be left behind.  No worries!  I simply grab my Tool-N-One with the Ball Tip Stylus Attachments and run some adhesive on my non-stick sheet, then run the ball on the end of the stylus over the adhesive to pick some up on the tool.  Now it's as easy as running the stylus around the curve of the cut to whisk up a whisker; the adhesive picks it right up!



Stamps: Quietfire Design – And the Day Came
Paper: Neenah Classic Crest – Natural White – 80lb Smooth, Colorbok Neutral Basics Cardstock
Ink:  Versafine Onyx Black
Accessories: Spellbinders Antique Corner, Spellbinders Victorian Tags Two, Tool-N-One, Ball Tip Stylus Attachments



Tomorrow I'll be giving away a card that I promised to give away earlier this year.  I had to wait until I wrote down how to do the technique, so this one – that so many of you said you'd love to have, is going up on the block tomorrow and I couldn't be happier.  I thought it might be a lovely way to mark the half way point on the 30 Days of Giving.  Be sure to stop by on Wednesday :-)