Good morning and thanks for joining us!  We have a blog hop going on today and the entire Amazing Paper Grace Creative Team spent the week creating with the Graceful Frame Maker.  We each picked a border from the Graceful Borders collection to work with and spun it into a mitered frame or mitered frame background for use on a card.   The Graceful Frame Maker is a die that will cut four miters to create a framed card  from borders, punched strips or tall dies – you can see a step by step tutorial —–> HERE and a video —-> HERE.
I'll tell you a little bit about my card and will share a link list below so that you can see the creations of each person on the Creative Team as well as learn how to win a free Amazing Paper Grace Venise Lace Collection Die.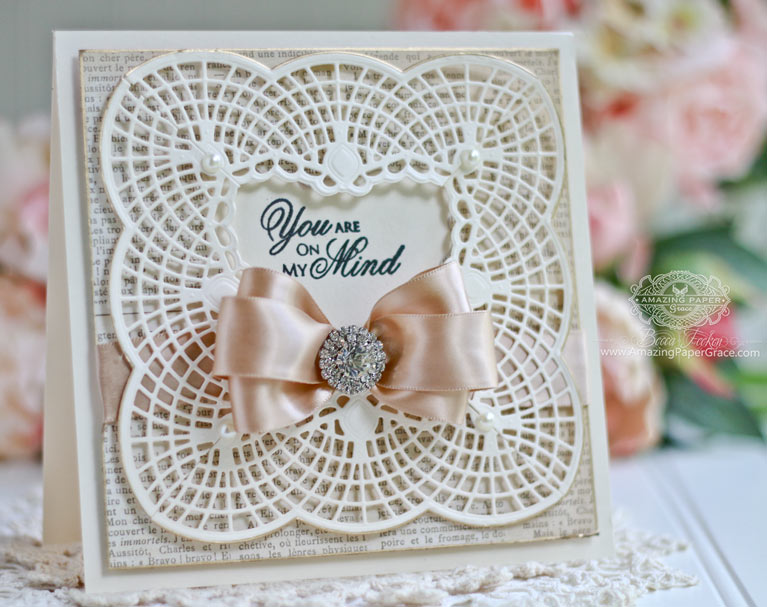 Recently I shared new dies with you from the Venise Lace Collection.  There's a new border die in the collection called Bella Clair Border and I thought I'd give it a go with the Frame Maker Die.  Although it is a wide border, I was absolutely tickled with how it turned out — I thought it was pretty nifty for a card that uses only one die :-)
It went together so easy!  True story – when I have an intricate die, sometimes I'll do a trial run with typewriter paper.  But today, I lined all four of these borders up, cut them once with the Frame Maker Die, and was done.  I just look at the result and it's honestly hard to believe that it came from a straight border.  I can't wait to have more time to try the Frame Maker with some of my 7″ tall card front dies that have unique edges.  I'm also going back through all my border dies and border punches.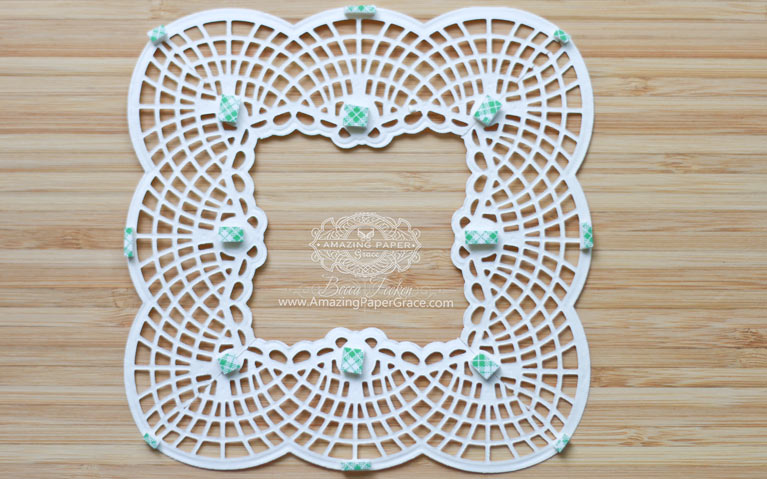 The question I get so often is 'how do you glue, secure and elevate the four pieces you get?'  Well, I get stealthy.  Simply turn your four pieces over and secure the joins on the miters with clear tape – anywhere you have a little bit of real estate.  Likewise, put little bits of foam tape (double decker) strategically where ever you have real estate.  To support the back of this die cut I used 16 small pieces of doubly stacked tape :-)  See, you've been framed!  And now here's the hop information you'll need:




How to Win:
Hop around to each Creative Team Member and leave a comment on each blog, one lucky winner will win a die of their choice from the Amazing Paper Grace Venise Lace Collection.    In making the rounds, a comment should be left on the July 11th Blog Post of each Creative Team member – in your comments let us know if there is a border or two that tickles your fancy.
When to Check Back:
We'll pick and post a winner on Saturday July 15.  The winner will be posted on the Amazing Paper Grace Blog.
How to Claim:
The winner has two weeks from the time the blog post is published to claim their die.  Simply click on the contact tab at the top right hand corner of the Amazing Paper Grace blog, leave your mailing address and type the name of the die you'd like.  Becca will be sending out the winning die.  In fact, she's currently all caught up on mailing out winning dies :-)
Who can Play:
Any of our lovely readers including our international friends.
Off We Go!
Visit Becca      –  at amazingpapergrace.com/blog/
Visit Melissa  – at keepsakesbymelissa.blogspot.com
Visit Teresa    –  at victorianpaperqueen.com
Visit Anita      – at craftingforever-anita.blogspot.com
Visit Kristi      – at kristispapercreations.blogspot.com
Visit Joanna   – at joannakrog.blogspot.com


Stamps:  Amazing Paper Grace – Retired
Paper: Neenah Classic Crest – Solar White – Cover – 80lb smooth, My Minds Eye Paper
Ink:  Memento Luxe – Tuxedo Black
Accessories: Venise Lace, Graceful Frame Maker, Bella Claire Border, PL-001 Platinum™  Die Cutting And Embossing Machine with 8.5″ Platform, The Paper Studio – Pearls, double sided satin ribbon, jeweled button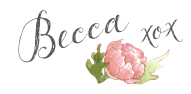 Hey there, do you have creations you'd like to share with us?  Tag your Instagram cards made with Amazing Paper Grace Dies with #amazingpapergrace and your creation may be featured during our next creative team round up.  If you're a die collector, be sure to help a fellow collector and review your dies, how they cut and what you use them for on Amazon.com or Scrapbook.com – you can upload your creations right there as well.