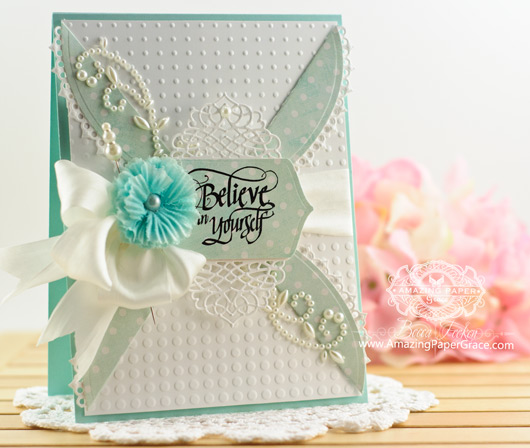 Good morning friends!  Just another quick thought about the written word.  There's a poem that says, that the scent of the rose always lingers on the hand of the giver, and I mused yesterday about how true that statement is.  Most of my cards are inspirational in nature and I have to admit that by the time I'm done with the card, I feel like I've reaped the wisdom of the message.  What a blessing, right?  As you may well imagine, even during the rare store bought card purchase, I stand for hours making sure to pick exactly the right words.  Same with handmade, the selection of the sentiment takes me as long, if not longer, than picking the color.  Today I picked a bold sentiment from Quietfire Design from the If You Don't Believe in Miracles set.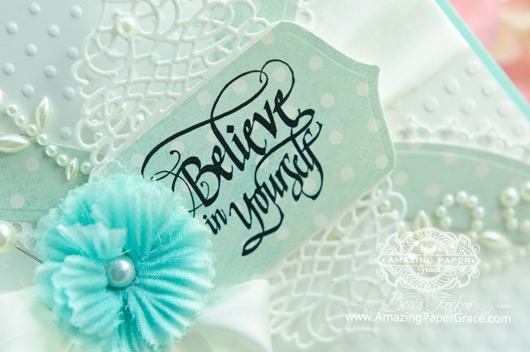 I'm not going to do a step by step today, but I'll give you a couple of clues about how this card goes together; it is simpler than it looks.  It's a regular card base with an embossed background – I used Spellbinders Dainty Dots (Side B).  On top of the embossed background is Spellbinders Grand Ovals cut in half vertically then the cut side of each oval is glued to the edge of the card and the round edges scored and folded in on a diagonal – the resulting piece looks like a diamond.  Both diamond pieces are arranged to meet in the middle.  I cut a matching piece of embossed cardstock into the same diamond shape to line the inside of the oval.  Underneath each of the scored rounded edges I lined with Spellbinders Grand Decorative Oval for the pretty detail.  On top of that I mounted the filigree piece from Spellbinders Tranquil Moments.  Here is a kind of behind the scenes quick look at the piece (I used two)  I put on my card to create the background illusion.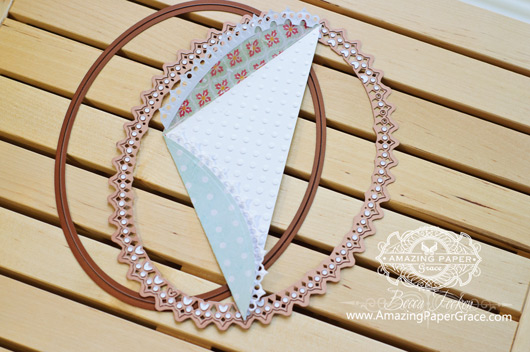 I thought this was a nifty trick and even if you don't have the Grands to do it with, scale it down and try it out with the core Spellbinders Circle shapes and some of the decorative circles.  If I get a chance, I'll whip up a smaller sample for you.
You all bless me so much!  Thank you!  I'll see you soon!
Question Parking Lot: