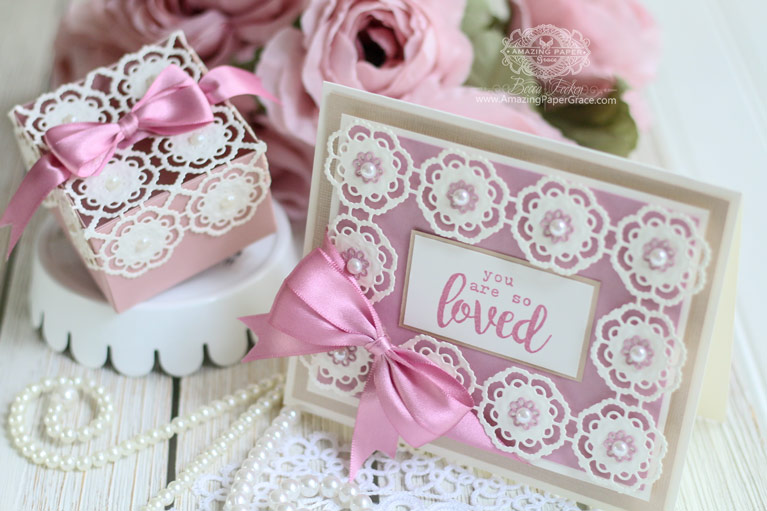 Hello September!!!  Along with the heavenly feel that autumn is coming, I have the distinct pleasure of ushering in another Die of the Month.  This month I'm introducing the September Die of the Month Snip-It Flowers – a new Amazing Paper Grace concept.   This is a die that can whittled down for any size card!  I designed it so that pieces of it can be snipped to give you all of the following:
Frames and Backgrounds
4 x 4 background with flower centers
4 x 4 frame with flower centers
3 x 4 background with flower centers
3 x 4 frame with flower centers
3 x 3 background with flower centers
3 x 3 frame with flower centers
2 x 2 background with flower centers
Borders and Corners
1 column border with flower centers
2 column border with flower centers
3 column border with flower centers
3 Flower wide corners with flower centers
4 Flower wide corners with flower centers
Big flower corner pocket with flower centers
Every Combination above with no flower centers
–  for a different look!!
If you want to see these more than 12 possibilities rolled into actual do-able cards, there is a Snip-It PDF  ——> DOWNLOAD IT HERE.
Furthermore, on September 5th the Creative Team will be tickled to show their makes with the die!
Inspiration for Snip-It Flowers
I get notes from crafters all the time who want a certain size die – some ask for A2, some ask for A7, some ask for specific sizes.  Snip-It Flowers grew out of the desire to accommodate all while making a budget-friendly die that you can use in so many ways.  As a result, this is a big die, a small die, a detailed die and a clean and simple die – all in one. By the way, I stopped counting at 16 different ways to Snip-It.  I think this is going to become a staple in my stash but would love to hear how you'll use it.
Snip-It Flowers Samples
When I made the first 16 samples using this die, I thought I had covered all of the possibilities, but not so.  Afterward, new projects kept popping in my head.  We have all month to show you, but in the meantime, I'm showing one quick card and box today.  This is a 15-minute project and will easily get you out of a bind when you need a card and a gift.
The cards above is covered in the video and shows you how easy it is to "snip" to get the frame.
For the picture above, I'm showing my favorite two adaptations.  One is a full background and the second is a two column border that gave me room to use a sweet Quietfire Design sentiment – Floral Banner and Quote.   So flexible, I could have as easily but that border on the bottom and had the sentiment float along the top.  My mind is still working on possibilities.
Well, that's my shares for you with the September 2019 Die of the Month!  Pop over to the Spellbinders Blog to ——>THIS POST <——– to have a look at many more pictures of Snip-It Flowers.  As always, over on the Spellbinders Blog, there are many cool projects that I've not shown here.
If you have purchased any of the Die of the Month Dies, I hope you'll leave a review.  Just pop over to the Die of the month page.
If there is something you'd particularly like to see as a Die of the Month or a type of die that you don't like, pop up to the comments tab of the blog and leave me a private note.  There's a whole team of people who debate these dies every month and we critique if we're giving you the best value and most unique combinations on the market.  Yes, it is that important!  For that reason, I'm always keen to hear your feedback :-)


Take care dear friends!!  Remember to take a moment for "you" to craft – it brings out the best in us all and is good, good medicine.