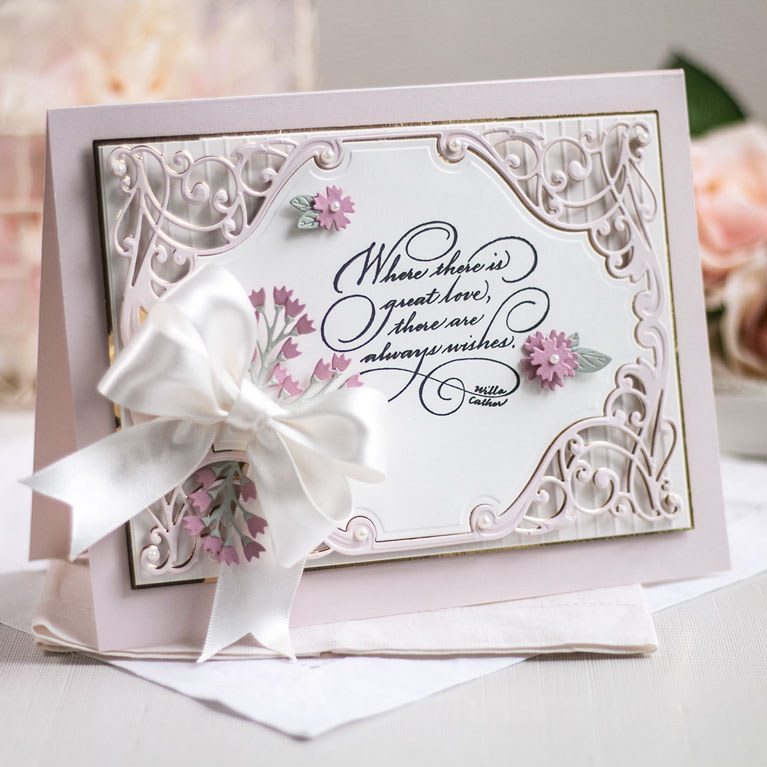 Sweet friends, I'm back to reveal a new Die of the Month.  Can I just tell you that my home is a classic, crisp, curvy, elegant die that catches the eye.  I hope you love the Amazing Paper Grace October 2021 Die of the Month – Flourished Fleurit. Flourished Fleurit fits that bill of a polished and dressy die that can be used to add just a little something to your makes.  It's so simple and surprisingly can be used in so many different ways.
Some links may be affiliate links, buying products through these links generates a commission at no cost to you.
Inspiration for the Flourished Fleurit
I'm such a fan of graceful, romantic cards that traverse so many occasions without being overly fussy.  I wanted so much to create a rectangle that could easily be converted to a square.  Flourished Fleurit has several strategic snipping points that make sizing it down, so easy.  Check out this month's video below, where I show you how easy this is.
What's Inside the Flourished Fleurit
This month's set comes with 9 dies and includes the sweetest little flowers!  Everything you need to make a complete card can be derived from this one die set.  Every month with the Die of the Month I slip in several unique small flower dies to add to your collection.  These little floral prizes are perfect for spicing up and embellishing any card.
Go from A7 to A2 with four snips – check out the video to find out the best way to convert this die.
I hope you liked the video that I created for Spellbinders – don't forget, you can subscribe to the Amazing Paper Grace YouTube Channel.
More Inspiration for Flourished Fleurit





This may be one of the easiest cards I've made lately!  Cut the motif, add the flowers, add a sentiment, that's it!  I also love that the Flourished Fleurit motif is like a sweet vine – it makes it easy to add in the flowers! The stamp set is my STP-058 Beautiful Inside Out Sentiments.





For this box, I used the die-cut to notch out the v-shaped opening on each end of my box.  Then it was just as easy as scoring it and adding handles.  The Flourished Fleurit vines make the perfect decoration for the side of the box.



Here are all the makes together.  It's hard to pick my favorite element but I love the vine with 8 little flowers – it's so easy to put together and combined, the vine and flowers make a statement.  I hope you like them.
Coming Up
Do you love making boxes, paper flowers, or using your dies in unexpected ways?  Then you need to stop by and visit us at the Amazing Paper Grace Creative Encouragement Facebook Group    We offer over 100 tutorials showing you creative new ways to use the dies as well as tutorials on flower making in the Guides tab.
The Creative Team always loves to show you their take on the new Die of the Month.  Visit this post for more inspiration with October 2021 Flourished Fleurit.


So grateful that we are headed into a beautiful fall!  So many good things to look forward to!  I'm reveling in being on place and much of my anxiety has melted away to pure joy.  So grateful to have a home and be at home.  Looking forward to putting together a craft room whenever the furniture stores get their stock in!  What are you up to these days?