I'm welcoming October with open arms!!!  Yep, open arms along with a new Die of the Month – One Kind Word Alphabet Collage.  So here's the scoop, on Saturday October 5th which coincidentally happens to be World Card Making Day – the creative team and I are going to have a blog hop to give you a little bit of inspiration on how to use the Die of the Month.  Ssshhhh, don't tell anyone but I'm going to be giving away 4 Dies of the Month that include any month up to and including the September Die of the Month.  All you have to do is leave a comment on each Creative Team Members Blog for more chances to win.   We'll pool all the comments together and randomly pick four.  The giveaway is open to anyone in the world – more on that on October 5th.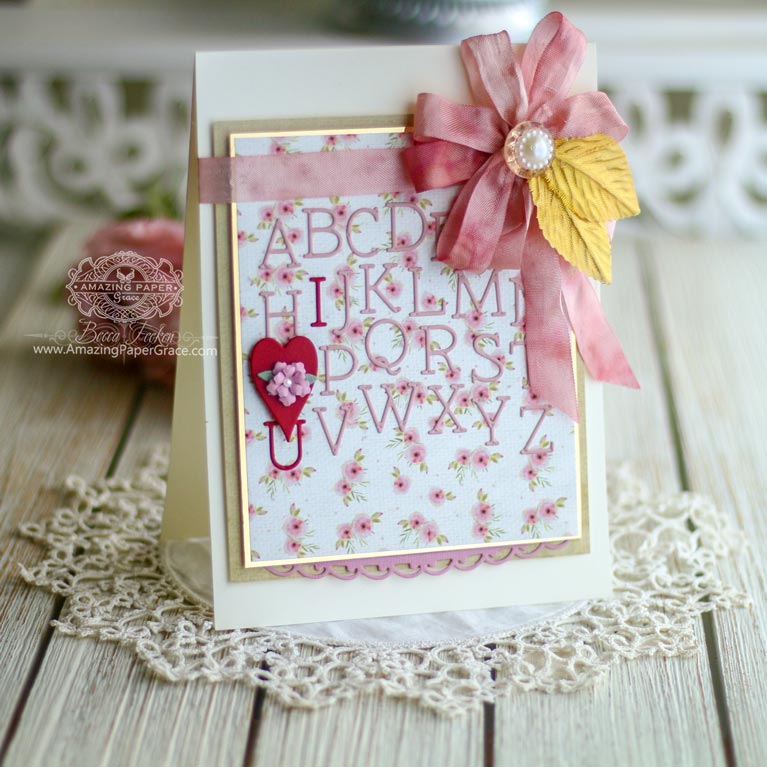 Inspiration for One Kind Word Alphabet Collage
It was an easy inspiration for One Kind Word Alphabet.  I'm the kind of person who hangs out in the card aisle for hours reading sentiments – just looking for the exact, right one.  It's the same with handmade cards – there is normally a word that sums it all up.  Voila, One Kind Word.  It just so happens to house an entire alphabet and the die that alphabet sits in will make it's own smaller collage card.  I love it that the letters can be used to spell out any full phrase sentiment you want.
I created a video to show you a unique way the alphabet can be used and a fool proof way to get that pristine placement.  Beyond that, on October 5th, I'll show you additional cards.
One Kind Word Collage Samples
I'm just so tickled with the whimsy of this.  My mind is revving with a million uses – finally an alphabet to use with my journals :-)
Well, that's my shares for you with the October 2019 Die of the Month until Friday, October 5th with the sweet inspiration from the Creative Team!  If you have purchased any of the Die of the Month Dies, I hope you'll leave a review.  Just pop over to the Die of the month page.


So hey, if you don't mind giving me some advice.  I would like to arrange giveaways more often than I'm currently doing.  Are you surfing Instagram these days for giveaways or have giveaways pretty much gone by the wayside.  What would you like for me to give away?  Where is the best place to do giveaways?