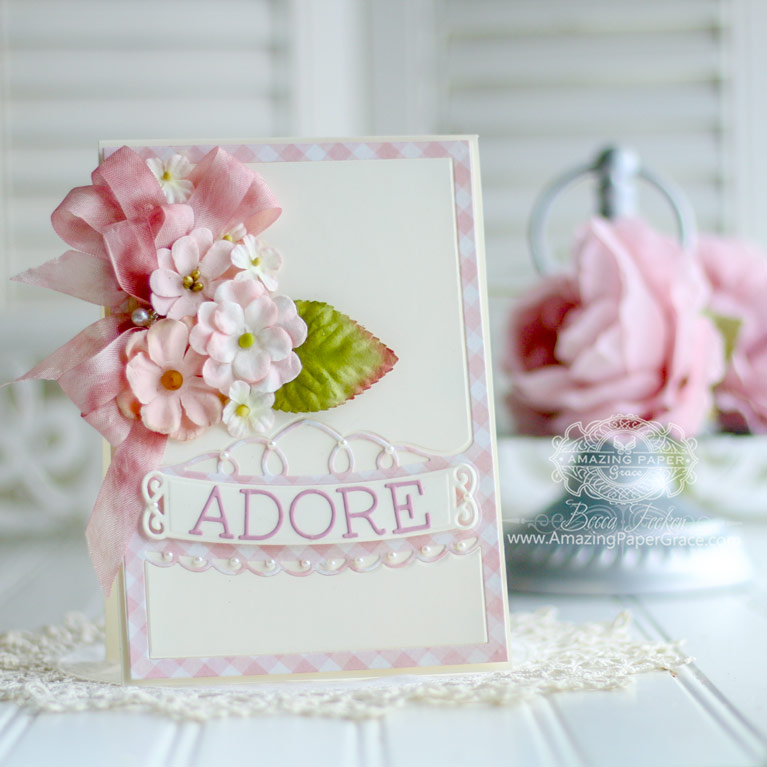 Happy World Card Making Day!!!  We have a GIVEAWAY (details at bottom of post) today but as usual we're making cards; it's a wonderful way to celebrate WCMD!  I'm tickled to show you a little bit of inspiration from my new October 2019 Die of the Month – One Kind Word Alphabet Collage.
I'm the kind that stands in the card aisle for hours on end looking for exactly the right sentiment to express what I'm feeling in a card.  Have you ever tried finding a 'Sorry' card? Um, right!  It was that frustration that led me to create this month's Die of the Month.  You can headline with Sorry, Amazing, Silly, Crazy, Fierce, Happy, Blessed, Gather, Home, Grow, Friend, Bestie and the list goes on and on.  No need to stick to one word, you can have two – U Rock, Adore U, My Love.  Not only that, you can set your own small
One of the things we share when we share a handmade card, is kindness.  What better way to share that kindness than to put the exact word you mean on the front of the card.   Nothing like getting right to the point! The Alphabet collage is a card in and of itself but the words you can make with the letters that fall out, are priceless.  You can use the 5 x 7 Sentiment Frame or go naked and simply make up your own sentiment.
My Project Today:



I simply can't describe the draw I have to gingham and it was the strongest inspiration for my cards today.  I have two cards that I cut on the diagonal of the gingham paper.  I'm a seamstress at heart and if there are any seamstresses here too, you know how we approach cutting fabric.   I was able to get two cards out of my cuttings as they are opposites.  It just goes to show the flexibility with the die.  It has a frame that makes it ultra easy to compose the card and a brilliant choice if you struggle with composition.  The frame breaks apart the real estate so that it's pretty easy to decide what goes into each quadrant.
Stamps:  None
Paper:  Neenah Classic Crest 80lb Natural White, My Minds Eye
Ink:  None
Accessories:      October 2019 Die of the Month – One Kind Word Alphabet Collage, 
If you want to find out more about the Club – prices, how you sign up and what's included, please look ——–> HERE.
If you missed the introduction and want to know more about what inspired the Die of the Month Club, look ——->HERE.

GIVEAWAY
Today I'm giving away four Die of the Month die templates.  Up for grabs is any die of the month for 2018 and 2019 up to and including the September 2019 Die of the Month that have not sold out.  Simply leave a comment and let us know what word you would use on your card with this months die template.
We will compile the list of names from all seven blogs and pick four winners.  The giveaway is open to anyone worldwide and the winners will be picked on October 9th and published on the Amazing Paper Grace blog on October 10th.  Once published, if your name is picked, you have two weeks to claim your prize by leaving your choice and your address in the form found on the contact tab at the top right corner of this blog.  You won't get an answer to your email, but rest assured I will have your choice.  Please note: Prizes may take up to eight weeks – I'm a busy gal – but I promise, they will come.
Here are the previous Die of the Month's you have to choose from
More inspiration is just a click away.  Stop by with each Creative Team Member to see how they manipulated this die to come up with a unique project for you to try!
Visit Kate        – craft2owls.blogspot.com
Visit Joanna   – joannakrog.blogspot.com
Visit Teresa   –  victorianpaperqueen.blogspot.com
Visit Ewelina –  elinaart.blogspot.co.uk
Visit Melissa  – keepsakesbymelissa.blogspot.com 
Visit Becca     – amazingpapergrace.com/blog
We can't wait to see what you make with these exclusive dies – be sure to post your creation on the Amazing Paper Grace Die of the Month page ——-> HERE or on Instagram using the hashtag #AmazingPaperGraceClubKit