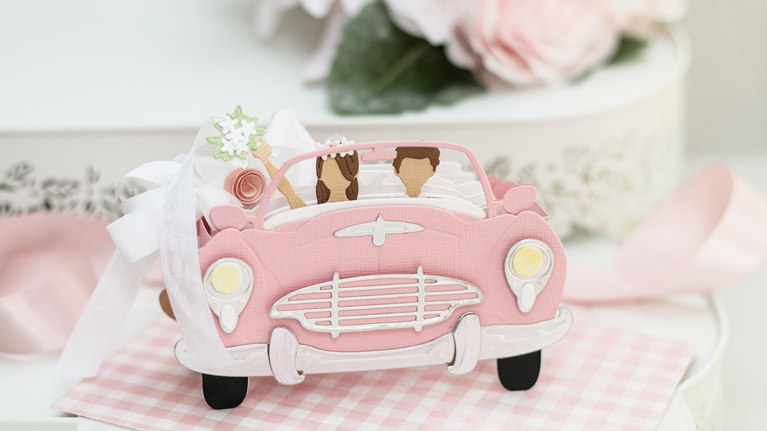 Buckle up, Buttercup!  Are you ready for a new Amazing Paper Grace Die of the Month?  This one has been in the works for a couple of years, just waiting for the right time.  Have a look at the Pop-up 3D Vignette Road Trip!   So cute!  Today's sample show a Just Married Road Trip but think about all the possibilities – New Car, Girl's Road Trip, New Graduate, Off to College, Vacation, New Job, Enjoy the Journey.  There are many dies to personalize this showcase card but keep in mind you make make it as simple or as detailed as you like.
Some links may be affiliate links, buying products through these links generates a commission at no cost to you.
The Die of the Month comes with a full instruction sheet that shows you how to stack the dies to cloth the people, how to add on hair, and how to build the car.  Mine in the samples is decked out, but the embossed detail on this set gives you the option of keeping it simple.  It's so sweet that this folds flat to go into an envelope.  Because I love embellishment, I added a bow and a flower onto the back of the car.  Here is a view of the card above, from the back side.
The Inspiration for the 3D Vignette Road Trip
Road Trip was inspired by a cute sticker given to me by a friend.  Even though it was a flat presentation, I felt I could turn it into a 3D Car.  I so wanted the option of a convertible that would house children with their hands in the air catching wind as if they were on the down slope of an exciting roller coaster ride.  It absolutely brings a smile every time I put one of these together! It's really a delightful crafty time.
Please be sure to check out the video – in this tutorial I'll show you how to quickly assemble and dress a car full of women for a Girls Road Trip.
I create a video for each Die of the Month for Spellbinders but don't forget, I have my own Youtube Channel – Be sure to Subscribe HERE.
More Inspiration for the 3D Vignette Road Trip
There were quite a few different pieces made for the Road Trip ensemble.  These were coordinated pieces for a wedding.  The piece below is a card you would give to Newlyweds. The Circle Meets Square makes a gorgeous background.



Below I'm showing a place card . . . can you see these sitting at each place setting at a wedding dinner? Fluted Rectangles create a perfectly sized place card.



Below, in the same pink theme, a gift box featuring the Radient Navette die!



Which item in the ensemble is your favorite?
I really love the stand-alone car – below, I'm showing how easily it slips into an envelope.
Amazing Paper Grace News
I hope you let your imagination run free on all of the different ways and occasions to use Amazing Paper Grace June 2022 Die of the Month – 3D Vignette Road Trip!
On another note, our Amazing Paper Grace Creative Encouragement Group on Facebook has recently reached 3000 lovely folks.  We are having some die giveaways this week.  Join us – click here to get to the group  Amazing Paper Grace – Creative Encouragement Facebook Group.
Feel free to reach out to me!  Here's where you can find me.
Let's Chat                    – Follow Becca Feeken on Facebook!
See what's Up            – Follow Becca Feeken on Instagram!
Kick back and Learn –  Follow Becca Feeken on YouTube!

That's it for me today!  I hope you are absolutely smitten with the Die of the Month – I am.  I'll be sharing some more with this die set this month.  In the mean time, welcome to all the new readers to the Amazing Paper Grace Blog!