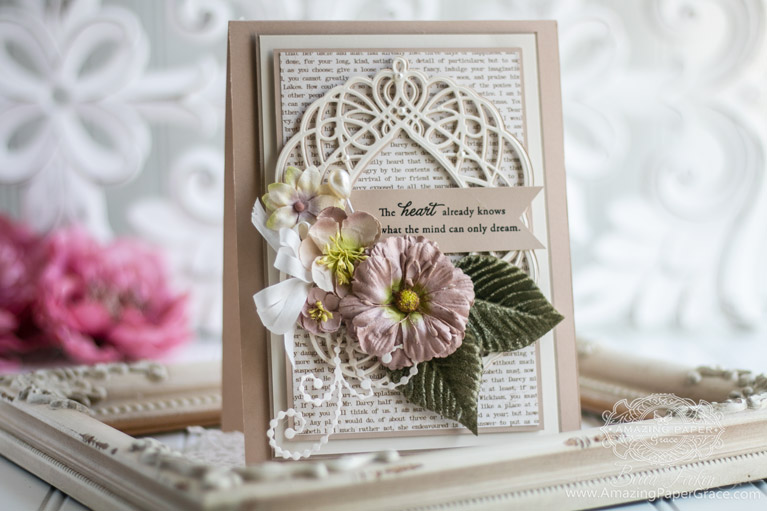 Sweet friends, one of the loveliest things I get to do as a Die Designer is to spend time sizing up a die.  It's a ritual with me;  I sit down with a cup of tea and a peaceful heart to explore exactly what a die can do.  I'm tickled to introduce you to the July 2020 Die of the Month – Fanfare.
Because it is a filigree filled oval, I found ways to use it as an oval doily, change it to a round doily, use it as a bag flap and create a mini doily with the fan motif.  Ahhhh, this one is so very romantic and it showed it's beauty as it bent to my will.  When I explore, it's time to fold, mirror, and sometimes snip to see all of the sizes and layerings a die can do.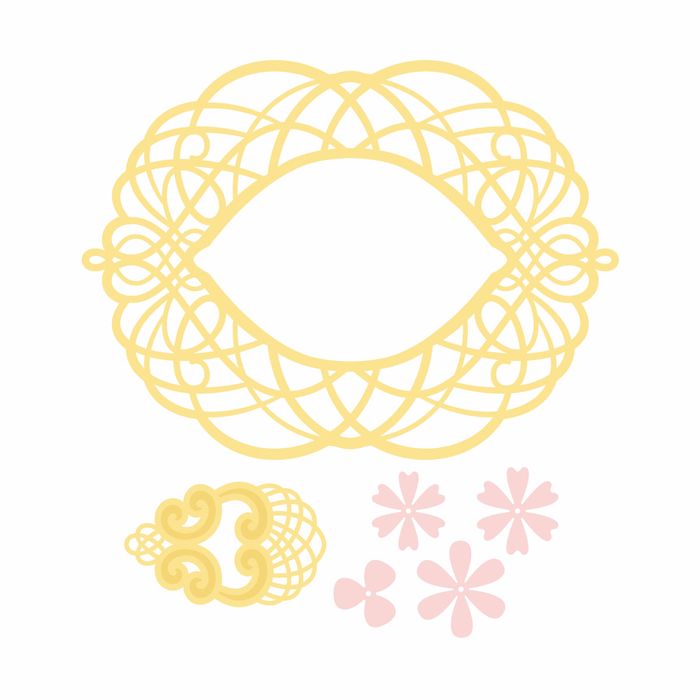 Fanfare
Fanfare is quite delicate.  It has calligraphic tendrils that curve and run through the motif.  It can be cut either as a frame or with no aperture, leaving a healthy landing spot for a sentiment.  Let me show you how versatile I found Fanfare to be.
Hmmm, which one of these beauties will you get to learn how to make today?  It's a surprise!  Click into this 6-minute video to add a new make to your repertoire:
Here's the line up a little bit closer:
I adored making these little bags, it is quite the change-up from a box.  In fact, the Fanfare motif makes an excellent flap and it's easy to place just by using glue!



I got the round look of this motif by placing one Fanfare on the front panel.  Finally, by placing another motif in a crisscross fashion on a layer below, I get the illusion of a circle!
APG Die of the Month
That's the line up this month and pop over to the Spellbinders Website to see all the projects I made.  I hope this is a small taste of inspiration to get you started!  Pop over to Instagram and follow my new account Amazing Paper Grace Creates to see more inspiration.  Better yet, if you are a FB user, come be a part of the Amazing Paper Grace Encouragement Community on Facebook.
Just a note . . . I am the Designer of the APG Die of the Month and it is sold by Spellbinders.  It is a part of an ongoing subscription club that discounts the die and renews from month to month, although you may cancel at any time.  It's a very large set and other competitor dies comparable in size are sold for more than $40.00.  To purchase, it can only be ordered or changed from the Spellbinders website.  I don't have access to take orders, to make changes or to cancel orders – but the customer service reps at Spellbinders can help with any questions or changes :-)  This die club is an excellent way to get a large multifunctional set each month at a discounted price that is the same every month, and within your budget.  In the subscription, you can join when you want and you can quit when you want.
Availability for Fanfare
Die of the Month is available to members for the month they are released in.  After that, if there are any leftovers, in the coming months they are added to the Spellbinders store for sale at full price.  You can see all of the past Dies of the Month HERE.
I encourage you to join.  What's more inspiring to have a fresh die coming into your hands each month that will compel you to create?  Ultimately, my mission is to give you the inspiration to sit down right away and create several of the projects I've shown here.



Finally, no round of projects could be complete without an enclosure card!!  Weighing in at 4.25″ square, the fan motifs that are part of the set have a life of their own.  Meanwhile, I simply arranged them in a round formation for a mini-doily that is perfect for a square card and will also fit nicely on an A2.


As always, a heartfelt thanks for spending a moment here! I love my readers – yes that is you!! If you want more inspiration for the July Die of the Month be sure to come back on July 10th as the Creative Team will be sharing more ideas in our Monthly Blog Hop.
In the meantime, please stay safe!! Spend some self care time crafting and keep your heads up – this too shall pass.