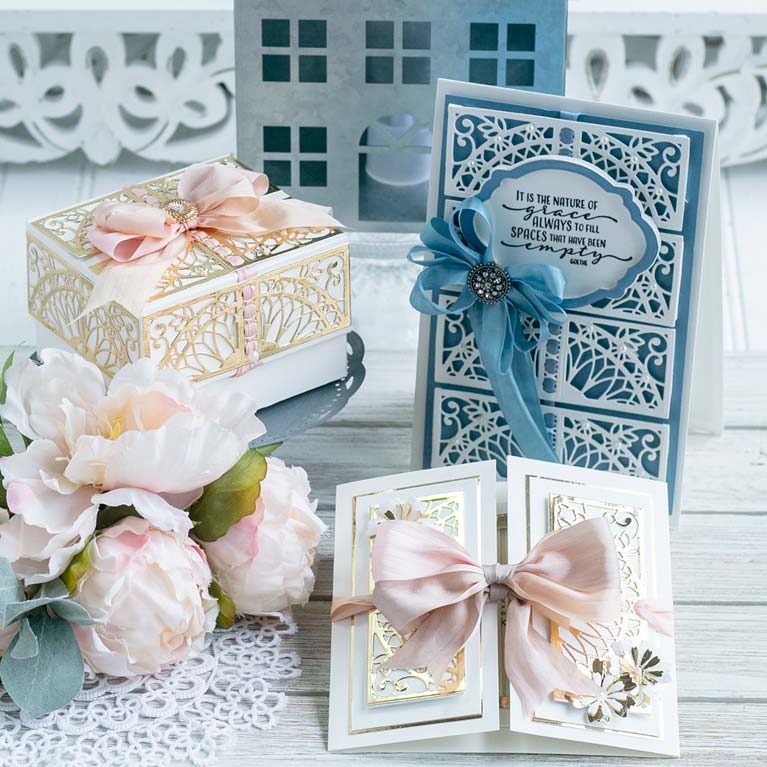 Hello there Gracelets!    I'm the proud mama every month to a die of the month and this month it is a twist on a gatefold that is 10 shades of elegant.  If you're not an over the top elegant crafter then you can take this to the more clean and simple look or if you like bling and intricacy then you have my permission to bling this up.  This month our Die of the Month is the Elegant Reveal Shutter Card.
This is the gatefold with the half-moon motif on each side of the opening.  I used the same half-moon motifs to decorate the back and threaded my silk ribbon through the die cuts.  I loved being able to decorate the back of the card.  To me, it's an easy way to finish or add a little bit of polish to the card.  By the way, this is is so easy, it almost constructs itself :-)
There are so many extra dies in this set that work to make "normal" cards but if you follow the directions to the YouTube below, you'll be making an interactive card that is a beauty to behold.
Elegant Reveal Shutter Card Samples



As always, I'm a huge believer in "ensembles".  These panels work up wonderfully into a box and by mirroring the panels, you have a sweet, elegant, balanced look.



Did someone say "normal card"?  Yes, I think I did!  If you are not the interactive type then do not be troubled – you can layer these elements together for a gorgeous card!   This was a month of fun for me and I got to hit each one of my comfort zones for a very rounded set of dies for the stash.  By the way, if the nested shape looks mildly familiar – it's the Hollyday Stationery and Envelope Corner Glimmer set. The dies in this die of the month will cut out this sweet border.
On another note, please join the Creative Team and me for the Elegant Reveal Shutters blog hop for a little bit more more inspiration to what I've shown above.
Feel free to reach out to me!  Here's where you can find me.
Let's Chat                    – Find Becca Feeken on Facebook!
See What's Up            – Follow Becca Feeken on Instagram!
Kick Back and Learn – Watch Becca Feeken on YouTube!
Get Inspired                – Amazing Paper Grace CREATES on Instagram


Thanks as always for your kind words.  I still adore designing dies!   It might be a bit of an addiction and I spend quite a bit of time doing it.  So I'm wildly curious – are you the interactive type or simply at home with an elegant die?  Which is your default – mostly cute or mostly elegant?  I'm at the designing table this week musing my next designs and would love your feedback :-)