Good morning sweet peeps!  The months literally fly by.  It seems that I was just here telling you about the July Die of the Month (one of my favorites so far) and then shazam, I wake up and we're in a new month.  As always, I really enjoy having a die of the month program.  It gives me the chance to keep on creating and with these dies, I can cater more toward unique features.  I'm trying to add a line up that will utilize several techniques and features to broaden our stashes or the toolbox, so to speak.  Today I ticked to introduce the August Die of the Month – Elegant Knots.  All of the samples this month show how easy it is to take this die and use it for several holiday occasions.   I made samples for Christmas, Valentines Day and an Anniversary.
On August 5th the Creative Team will be tickled to show their makes with the die
Inspiration for Elegant Knots
Elegant Knots was created because my love of a card front die that can also be used as a decoration and because of the ability to stencil through the channel in the lines of the die.  For this die, the embossed lines are so pronounced that all it really took to get the stencil look in all the samples is to sit an ink pad on top and swipe over it.  The raised area picks up the color and the non-raised areas do not.  It's been a long time since I've seen a die that caters to that intriguing feature.  I've had fun creating :-)   Today in the video I'm sharing how to make a showcase ornament for a Christmas Tree or even another occasion, like wedding or anniversary.
Elegant Knot Samples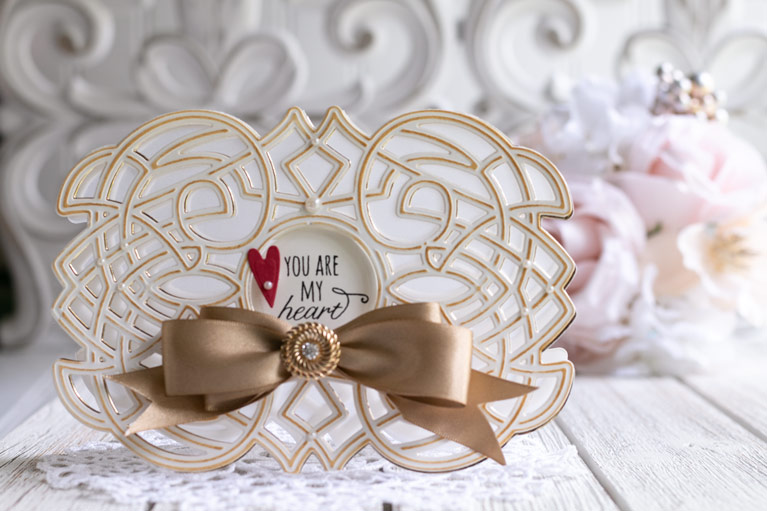 I love a shaped card!  This one has that vellum that gives it an ethereal look.  It was really a joy to create a die that is so easily colored and embellished.  On this one I swiped a Gold Delicata ink pad across the top to give it color.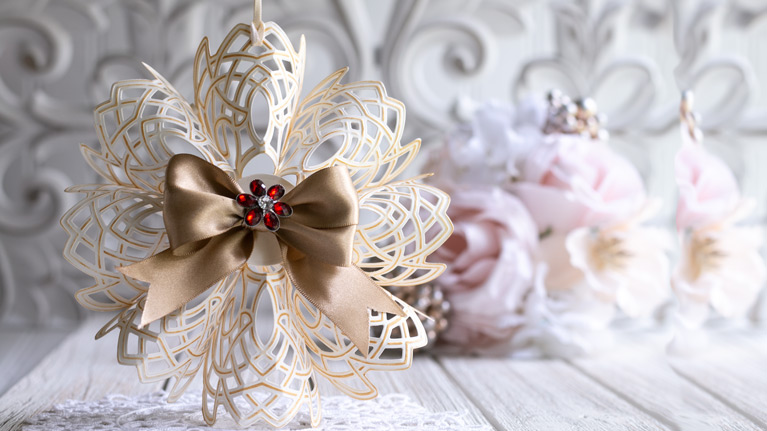 I used the same technique to make the star ornament.  It actually goes quite well with the Christmas card at the top of the post but also makes the Valentines Day Card right above it.



As always, I love to be able to create a basket or box from the same die.  You know, I have that ensemble thing going on, lol!
Last but not least, the anniversary card!  This one is made by crisscrossing two of the elegant knot motifs.

Well, that's my shares for you with the August 2019 Die of the Month!  Pop over to the Spellbinders Blog to ——>THIS POST <——– to have a look at many more pictures of Elegant Knots.  As always, over on the Spellbinders Blog, there is a cool project that I've not shown here.
If you have purchased any of the Die of the Month Dies, I hope you'll leave a review.  Just pop over to the Die of the month page.
If there is something you'd particularly like to see as a Die of the Month or a type of die that you don't like, pop up to the comments tab of the blog and leave me a private note.  There's a whole team of people who debate these dies every month and we critique if we're giving you the best value and most unique combinations on the market.  Yes, it is that important!  For that reason, I'm always keen to hear your feedback :-)


I owe you all a life summary soon! The journey I'm on is so, so unexpected.  I'll share soon.