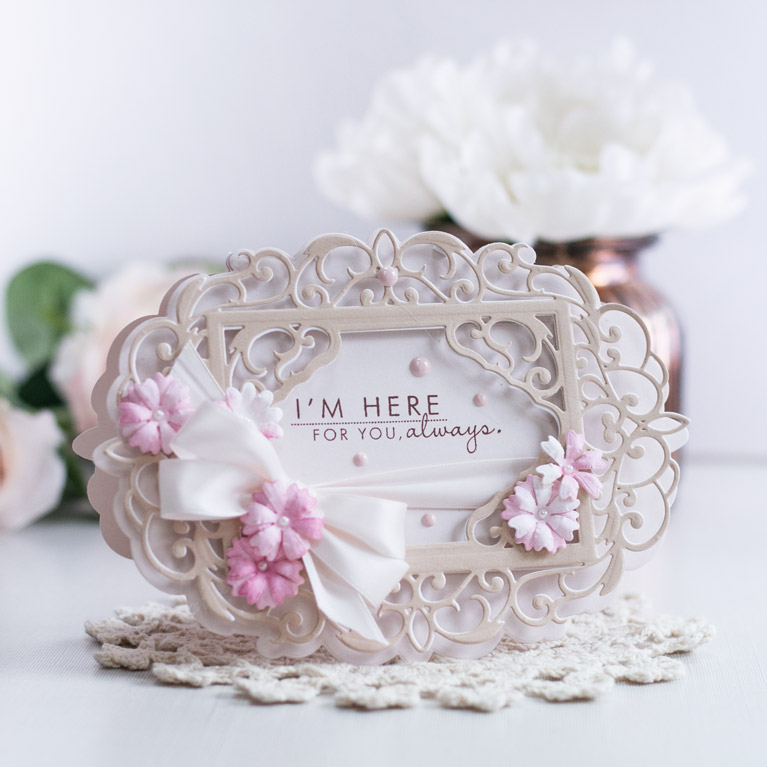 Happy March Everyone!  Spring is coming – soon, I hope!  In the meantime, it is time for another Amazing Paper Grace Die of the Month! The March 2022 Die of the Month brings you Bella Ovalette.   If that name sounds mildly familiar, perhaps you remember Bella Diamante from February 2021?  Yes, this is a companion die in a different shape.  The two of them will work well together and are fabulous on their own.  They create cohesive layering and as always include options for both large cards and small.
Some links may be affiliate links, buying products through these links generates a commission at no cost to you.
The Inspiration for Bella Ovalette
This month's set comes with 12 dies.  As a designer, I love to program in rims so that you have options, lots of options.  For this set, you have the option to do a shadow layer that will allow you to make a shaped card and you also have inlay options with many of the pieces.
Please be sure to check out the video – I've created an open aperture top fold card and with a scaled-down motif for the focal point :-)
I create a video for each Die of the Month for Spellbinders but don't forget, I have my own Youtube Channel – Be sure to Subscribe HERE.
More Inspiration for the Bella Ovalette





This is one of my favorite layouts to make.  I love three repeating elements – it creates such intrigue for the eye.  The sizing of the smaller motifs make them perfect for a venture like this.  Be sure to pop the layers up with foam tape to create shadows and drama when you look at it.  This is a 15 minute make!





Same motif, but paired down a bit!!  I used the large motif from Bella Ovalette and executed an easy alteration to make it the motif for this card.  I love it that you can see detail through the opening where you write your sentiment.  This one is a breeze to make the video will show you how, step by step.





Last but not least, this card is made to remind you of Bella Diamante, from February 2021.  It doesn't get simpler than this – simply cut, layer, add a bow and sentiment.
Be sure to stop by on Friday, March 4th for our Blog Hop where the Amazing Paper Grace Creative Team and I will give you some ideas on layouts and accessories that can be made with Bella Ovalette.
That's it for me today!  I hope you are inspired by the Amazing Paper Grace March 2022 Die of the Month!
Feel free to reach out to me!  Here's where you can find me.
Let's Chat                    – Follow Becca Feeken on Facebook!
See What's Up            – Follow Becca Feeken on Instagram!
Kick Back and Learn –  Follow Becca Feeken on YouTube!
Get Inspired               –  Amazing Paper Grace CREATES on Instagram


Happy Spring to you all.  As we go about our daily work stay positive.  Our world is on fire right now and the good vibes and prayers we send across the world for peace are needed.  Keep Ukraine in your prayers.