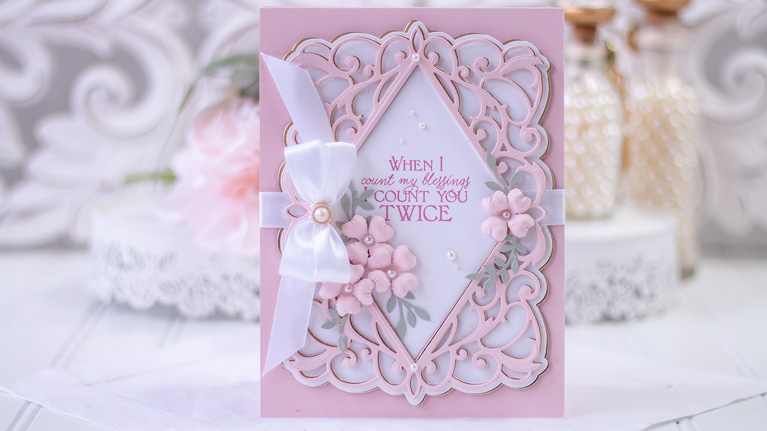 Good morning sweet friends.  Today I'm revealing a new Die of the Month!  The word that comes to mind is romantic.  It is sweetly elegant and is classically Amazing Paper Grace.  Today, welcome the  Amazing Paper Grace February 2021 Die of the Month – Bella Diamante.  As always, this A7 sized medley of dies is full of rims and smaller A2 sized pieces so that you have the best of both worlds.
For my first sample, I wanted a sweet pink composition.  It's so classic and lends itself to any sentiment you choose to put inside.  This one is for a little young lady in my life, so I adorned with the whimsical flower in the set.  I simply wet the flower and burnished the petals to give them dimension.
Inspiration for Bella Diamante
Believe it or not, the inspiration for this die was a book cover pressed in gold.  It had four decorative corners and I loved how it implied a diamond in the center.  The symmetry on this die will make it useful for flaps, boxes, and other inspiration you'll see throughout the month.  Since I don't have any diamonds in my stash – I thought this would be a perfect opportunity to add one.  I love the room it gives for a sentiment.
Today on the inspiration video, I'll show you how to make a card using Bella Diamante:
Many have asked about the adhesive used in the video.  It's one of my favorite new products by 3L and it makes my life easy because the thin cut strips fit into the tiniest areas ever.  I'm providing a  link because so many have asked:  https://amzn.to/3oWNIrO
Bella Diamante Samples



I love a landscape-oriented card and Bella Diamante effortlessly turns onto its side for a lovely card.
As always, I try to design so that the elements can be used for a box.  After all, we are gift-givers and most of the time the card comes with a token.  I love having that token appear in a matching box.  The lid here is made with the "shadow" piece and you can easily see how all of the different rims are used for embellishment.
Coming Up
Do you love making boxes, paper flowers or using your dies in unexpected ways?  Then you need to stop by and visit us at the Amazing Paper Grace Creative Encouragement Facebook Group   Me and the Creative Team post over 10 new tutorials each month showing you creative new ways to use the dies as well as tutorials on flower making.
The Creative Team always loves to show you their take on the new Die of the Month.  We'll be back on February 4, 2021 for more inspiration with Bella Diamante


It has been a busy month for me and I hope to share some good news soon!!  I hope you are all well and safe!