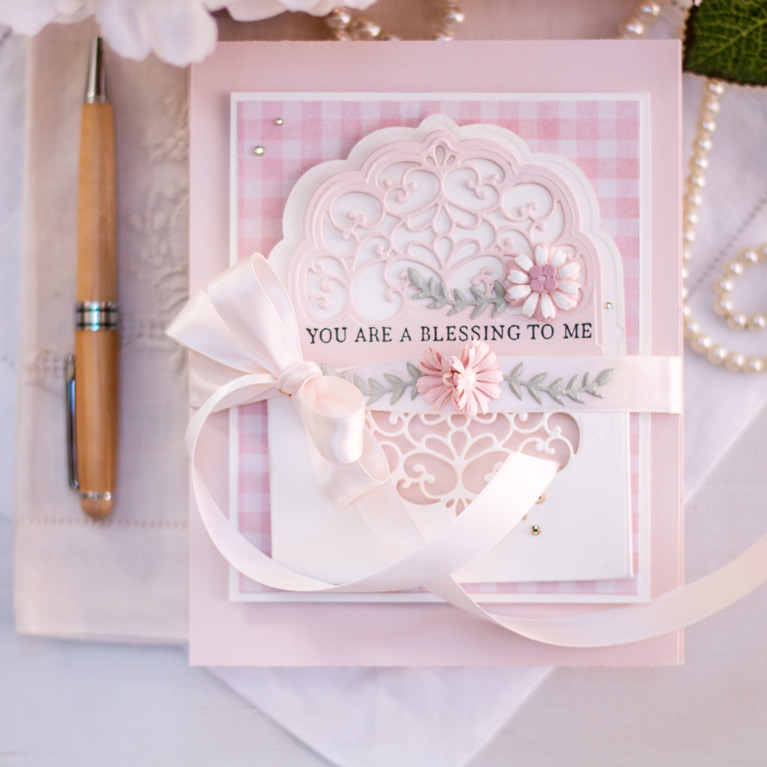 Good morning lovelies, it's that time again!  Time for a new Amazing Paper Grace Die of the Month.  This one has been on my list for eons and I finally vetted it and worked it out.  Please say hello to the Enchanting Pocket Card, Tag, and Envelope for the Amazing Paper Grace December 2021 Die of the Month – it's so many things wrapped up in one.  It's a gift card holder, it's a tag, it's a pocket card and an enclosure card all rolled up into one sweet package.  This is one that will float up to the top of my tool box for a long time to come, because I'm always reaching for these items.
Some links may be affiliate links, buying products through these links generates a commission at no cost to you.
Inspiration for the Enchanting Pocket Card, Tag and Envelope
That's right, I pen cards and little notes all the time and was simply looking for something slightly elegant but not too over the top fancy to put them in.  Enter the Enchanted Pocket.  It is just the right size for a gift card, lol, because I give them allllllllll the time.  The top was decorative so I thought it would be amazing to use to use as a card focal point – so I created the tag.  Coincidentally enough, the tag folds in half and fits in the envelope for a decorative card.  Again mission accomplished – a multipurpose die that has a very specific function but is also quite pretty when used for decoration.
What's Inside the Enchanting Pocket Card, Tag and Envelope
This month's set comes with 14 dies.  The Main Pocket, three decorative inserts, three scoring bars, two flowers, two sprigs and a tag shape.
Check out the video to see how easy it is to create a gift card holder:
I create a video for each Die of the Month for Spellbinders, but don't forget, I have my own Youtube Channel – Be sure to Subscribe HERE.
More Inspiration for the Enchanting Pocket Card, Tag and Envelope



I couldn't resist making this into a mini album.  All it took was 10 cuts of the tag die.  The were placed back to back to make finished surfaces for mini pictures.  I created my own accordion fold binding but you could also use my Universal Accordion Fold Spine die.



This was the main inspiration for this set – I love giving gift cards and wanted something that could go from plain for men to ultra feminine or women – and in only a couple of steps.  I actually got more than I bargained for – it also makes a sweet set of enclosure cards or mini note cards.



Last but certainly not least, the basket.  I took four enclosure cards, glued them together on the bottom and attached a handle.  It cannot get easier than that!!  It makes into a 4″ x 4″ basket which is just enough for favors and small things but not too large where you would have trouble filling it.
Coming Up
I couldn't stop thinking of things to make with this set and our design team has already begun creating with it as well . . .  as you know, our Creative Team always loves to show you their take on the new Die of the Month.  We'll be back on Saturday, December 4, 2021, for more inspiration with The Amazing Paper Grace December 2021 Die of the Month – Enchanting Pocket Card, Tag, and Envelope.
Feel free to reach out to me!  Here's where you can find me.
Let's Chat                    – Follow Becca Feeken on Facebook!
See What's Up            – Follow Becca Feeken on Instagram!
Kick Back and Learn –  Follow Becca Feeken on YouTube!
Get Inspired               –  Amazing Paper Grace CREATES on Instagram


I hope you are already feeling the joy of the holiday season!  Please weigh in on the comments and let me know something you've done recently to welcome the upcoming season of thankfulness.