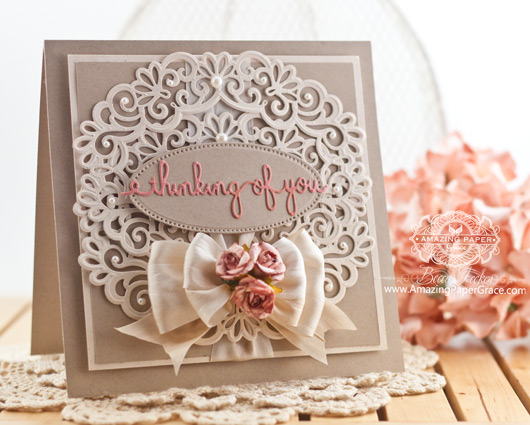 What a sweet day, friends!  In years past this week has slipped by me before I realize that this week is my blogging anniversary.  Yep, that's right – I've been at it for 7 full years and I'm going into my 8th year blogging.  One of my favorite sayings is "One often meets his destiny in the road he takes to avoid it."  Reciting this in my mind so many times over the year, I've now programmed myself to add, "Why not?  Let's see what happens."  I have to admit in retrospect that so many of the "let's see what happens" instances have been blessings in my life.   Wow, things have changed a lot around here since I made my very first post ——>http://www.amazingpapergrace.com/hey-whats-up-with-that-name/  I'll admit, I was very green and very rough around the edges but I had just come up with the name and wanted people to know how it came about (hint: it was most definitely nothing to do with my cardmaking abilities . . . but I digress).   So, I have a little sumpin, sumpin up my sleeve!  See, I planned ahead when I was purchasing giveaway gifts for New Years so guess what the giveaway gift is….  Hang in to the end of my post and I'll fill you in.  In the meantime, a quick rundown of my card.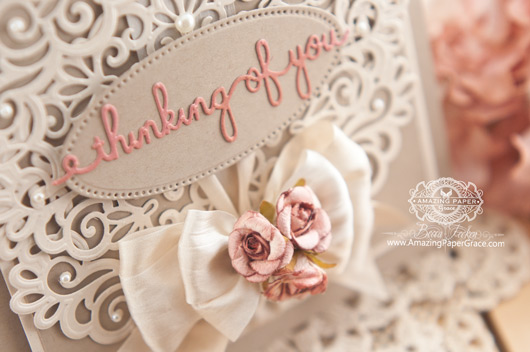 This is a quick and easy card where I've used a die cut twice to make a background then added an oval and sentiment.  The card measures 6-1/2″ x 6-1/2″ and will require an envelope made with my Envelope Punch Board – see, I have to create occasions to use that gem.  This card would look just as well at 6″ square.  To give you an idea, the next mat layer down measures 5-3/4″ x 5-3/4″ followed by a layer that measures 5-1/2″ x 5-1/2″.  For the background I used Spellbinders Heirloom Oval cut twice, overlapped and offset to fill up the card.  The oval is from Spellbinders Radiant Rectangles and topped it with a sentiment from Spellbinders Sentiments Four.
Wheee, I have another Artisan X-plorer to give away!  
Beginning today through midnight CST on February 11, 2015 you can leave a comment to enter (18 years old or older) and you may leave one comment each day if you like.  In your comment, tell me what craft item you hoard the most :-)  I'll pick a winner on February 12, 2015 using Random.org and will post the name of the winner in a blog post.  The winner has 48 hours to claim their winning by reaching out to me through the contact tab at the top of the blog.  The giveaway covers the Artisan X-plorer and shipping and this time around even includes my international readers.  I love this little machine – one sits within an arms reach on my crafting desk.  It's ultra portable so I dumped mine into my suitcase when I went to my daughters house for Christmas.  When we were wrapping gifts and she had no tags to put on presents  – enter the Artisan X-plorer to save the day!
I've had time for lots of reflection (I'll share a bit in the coming days) and more items up for grabs after 2/12/15 – peek in to see what I'm talking about as the month goes on.
Thank you so much for helping me celebrate!  Many of you have been here since the beginning and many have joined on – I'm thankful to you all!
Question Parking Lot: