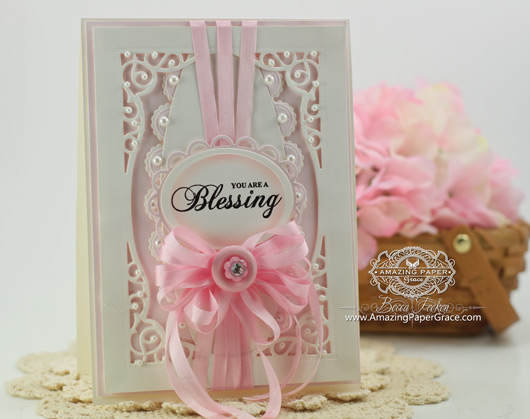 Good morning blog friends – it's true, you are such a blessing to me.  In fact, as a thank you to my marvelous readers, at the end of the year I'll be offering a giveaway that you won't want to miss.  Stay tuned!!  So, after my masculine card yesterday, I'm back with a girly card today using JustRite Papercraft  – Grand Thank You Sentiments in my familiar style of cream and layers.  I used pink as an accent color (imagine that) but this card could fly with any accent color.    I have a tip for you today too, be sure to look at what's left over from your die cuts – many times you can use the left overs on your card – since it's hard to explain this, I'll show you the left over piece I used that made my card work.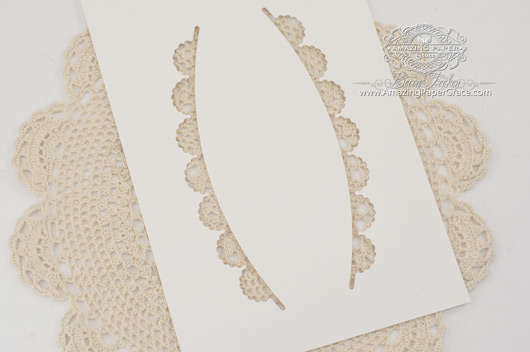 I reached for the the largest template from Spellbinders Majestic Labels Twenty Five and wanted to highlight the inner area, so I reached for JustRite Custom Dies by Spellbinders Buntings and Buttons and cut both the scalloped bunting and the smooth bunting knowing I wanted to use it as a border, but I wasn't sure what I wanted to border it on.  Well, when I looked  at the bunting cut out I noticed that it left the perfect upright shape to border.  I cut it one more time giving myself 1-1/4″ between the top edges and the bottom edges of the bunting and it created the curved shape in the center.  Lol, for my day to start out with something so sweetly serendipitous, it's going to be a good day!  I topped the design off with Spellbinders Lacey Ovals and Spellbinders Classic Ovals SM.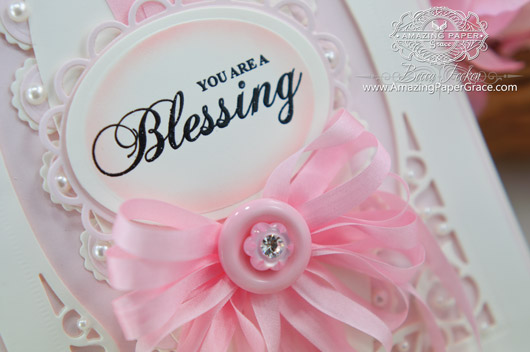 If you'd like to try this card, here's a recap from the bottom up:  Start out with a Card Base  7-1/2″ tall by 5-1/2″ wide (or see how to make that size with the Hinge Technique HERE), foam tape, pink matting layer cut to 7-1/4″ x 5-1/4″, die cut layer using Majestic Labels Twenty Five, foam tape, combination of die cuts Buntings and Buttons – smooth edge glued to scalloped edge glued to left over shape, ribbon, foam tape, Lacey Ovals, foam tape Classic Ovals SM.  Tip –  cut everything first, then stack.  Position ribbon, and bow on correct layer, after everything is situated, then glue!
I had a wonderful Christmas!  We didn't go all out and spend tons of money, but I did get a wonderful rolling case for my scrapbook supplies from We R Memories.  I've wanted it for some time and magically it was under the tree  :-)  The best thing I got was some quality time to spend with my youngest daughter (who didn't have to work this holiday).  It absolutely tickled my heart and was a huge blessing.  Did you get a gift that tickled your heart?…I'd love to hear!