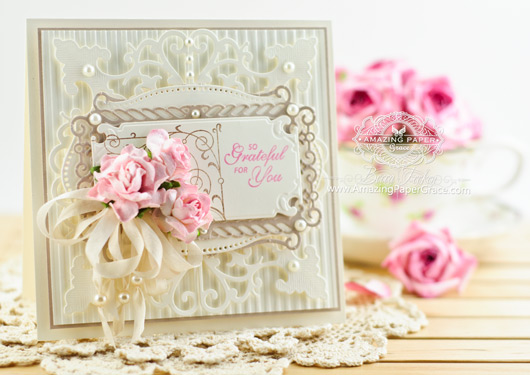 Good morning sweet friends!  This week JustRite Papercraft  has been showing new releases for the month of August so I created a gratitude card using the new Vintage Labels Nine along with Celebration Sentiments and Ironworks Vintage Labels Eight.  Although Ironworks is a background stamp, I love the detail and stamped it right beside the sentiment for some interest.   One of my background layers is made from dies – something I love to do – this one is Spellbinders Antique Corner.  I built up a couple of layers of dies to create a focal point using Spellbinders Majestic Labels Twenty Five then Spellbinders A2 Valiant Honor followed by Vintage Labels Nine.

Rummaging though my flowers I found these beautiful roses.  The are exactly the right shade of pink – I say that because there are so many shades and you won't believe how much time I spend looking for exactly the right shade of pink :-)   Anywho, instructions on the way!!
Here's how I made it – step by step:
Score a cream 5-1/2″ x 11 panel at 5-1/2″ and fold in half to create a card base.
Cut a panel 5″ x 5″ and emboss with Framed Petite Labels.  Emboss from each end to accommodate full panel.
Adhere directly to a craft panel cut to 5-1/8″ x 5-1/8″ – adhere to card base using double layers of foam tape.
Cut/emboss four Antique Corners, apply double layers of foam tape on seams – adhere to card base.
Cut/emboss Majestic Labels Twenty Five and second largest motif from Valiant Honor (snip bar holding decorative horizontal piece at top of Valiant Honor and flip it behind Majestic Labels Twenty Five), attach to card base with foam tape.
Cut/emboss Vintage Labels Nine, stamp with sentiment from Ironworks Vintage Labels Eight and Celebration Sentiments, then adhere to card base with foam tape.
Add bow, flowers and pearls.
CRAFT SUPPLIES I USED 
Rubber Stamps: JustRite Papercraft – Celebration Sentiments, Ironworks Vintage Labels Eight

Craft Paper: Neenah Classic Crest – Solar White – 80 lb, Kraft Paper
Ink: Amuse Studio – French Roast, Hampton Arts – Pink
Accessories: Vintage Labels Nine, Spellbinders Antique Corner, Spellbinders A2 Valiant Honor, Spellbinders Majestic Labels Twenty Five, Spellbinders Framed Petite Labels Embossing Folder, The Paper Studio Pearls, Prima Roses, May Arts Silk Ribbon, 

Be sure to pop in and visit the other designers who have creations to show today:
JustRite Inspiration • Becca Feeken • Angela Barkhouse • Marisa Job • Heidi Blankenship • Kristi Schurr  • Darsie Bruno • Michele Kovack • Kathy Jones • Sheri Holt • Kazan Clark
Thanks so much for stopping by, I'll be back again tomorrow :-)