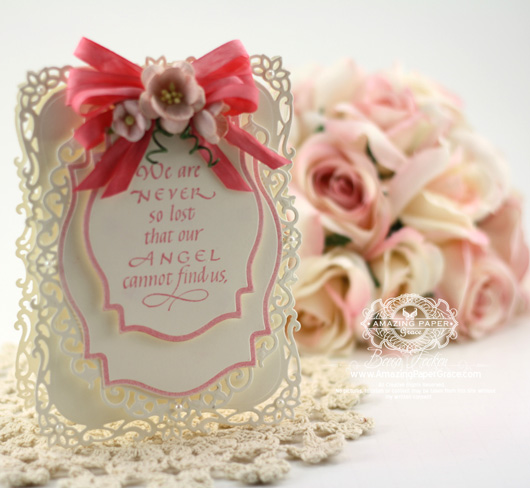 Hello there my crafty friends.   I'm busy behind the scenes with CHA samples and some catalog samples so although I've been creative, I haven't had anything to show for it.  That's okay though,  because I made something from the left overs :-)  Seriously, I started my last creative session by cutting everything in sight, just in case I might need it.  Cut, cut, cut . . .  toss, toss, toss . . . but never into the garbage.  I toss all those extras into a bin and the bin lives in a cubby near my feet.   I had to be on hold with my insurance company today and while I waited, I played with the leftovers.  It's rare that I can say I made a 20 minute card, and kept my patience intact.  I feel so blessed with the latter of the two — all in all, I'll have to say it was a good day :-)
Yes, simple – really!   Actually, I didn't even need a paper cutter because the card is all die templates.  Using Spellbinders Decorative Labels Eight I cut a card base using the technique I show in this video —–> HERE.  My focal template begins with Spellbinders Floral Ovals and ends with Spellbinders Labels Eighteen.  I used a sweet sentiment from Quietfire Design called We Are Never So Lost.
To recap the layers I used from the bottom up, I started with a Decorative Labels Eight card base 4″ x 5-1/2″, foam tape, die cut layer from Floral Ovals, die cut layer from Labels Eighteen, foam tape, another die cut layer from Labels Eighteen.  See what I mean?  This one will go into my quick card idea file for the next time I'm empty handed and need a quick card.
Thank you so much for stopping by friends!!  Hope you're off to a spectacular summer!