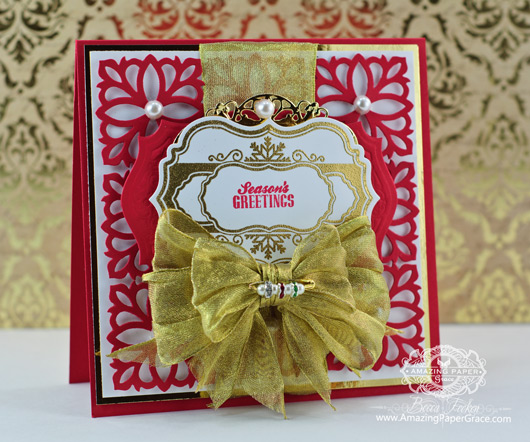 Good morning sweet friends, today draws to a close this months new releases from JustRite Papercraft – lots of eye candy this week right?  Today I have a more traditional Christmas Card to show, with traditional colors of red and gold.   I'm a teensy bit pleased that I have a little stash now.  And yes, it is early but let's not forget friends, at some point the time passes like the speed of light and by the time you realize it , it's too late.   I know, I know – it almost seems like perpetual Christmas, but I love it because it brings out the best in people :-)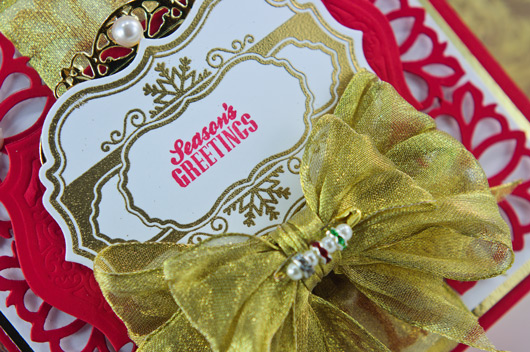 Now about my card, my sentiment from Snowflake Vintage Labels Seven is stamped on a panel diecut with Vintage Labels Seven.  Peeking out just behind is a layer with Spellbinders A2 Divine Eloquence.  The next layer is Spellbinders Labels Twenty Five that is embossed with Spellbinders Adorning Labels Twenty Five.  I made by own background by cutting nine of the square motifs from Spellbinders Damask  Motifs and lining them up in a 3 by 3 grid.  Lol – that's a quick background for when you don't want to use design paper!  I finished it off with a safety pin that I threaded up with pearls and three jeweled rondelles in Christmas colors.  Snort — it was a great idea until I figured out that I had to disassemble and reassemble to pin to make it happen (yes, this required me to pull out jewelry tools :-))
CRAFT SUPPLIES I USED 
Rubber Stamps: JustRite Papercraft – Snowflake Vintage Labels Seven

Craft Paper: Neenah Classic Crest Natural White 80 lb, PTI – Red
Ink: Versamark and Gold Embossing Powder, Hampton Arts – Red

Accessories:  Vintage Labels Seven, Spellbinders A2 Divine Eloquence, Spellbinders Labels Twenty Five, Spellbinders Adorning Labels Twenty Five, Damask Accents and Motifs, Offray Firefly Gold Ribbon, Paper Studio Pearls, safety pin, Brilliance Rondelles. 
If you haven't hit up the die sale, it's done at midnight — just sayin' :-)
Be sure to pop in and visit the other designers who have creations to show today:
JustRite Inspiration • Becca Feeken • Margie Higuchi • Eva Dobilas • Sheri Holt • Michele Kovack • Heidi Blankenship •  Angela Barkhouse • Kathy Jones • Darsie Bruno • Kazan Clark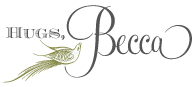 Question Parking Lot:
Clare W in comment #22 asked how I managed to get the safety pin loaded and put back together without mangling it :-)
Oh Clare, bless your heart….I'm not sure I'd ever do it again because the same thing happened to me.  I've found there is no way to recurl the pin so that it looks as good as the original.  I took the other end off – the closure.  I just wriggled it off with jewelry pliers – just twist from side to side (You may be able to twist it off with your hands).  Then I  popped my beads on, popped the closure back on then crimped the closure tight.  Hope this helps!!