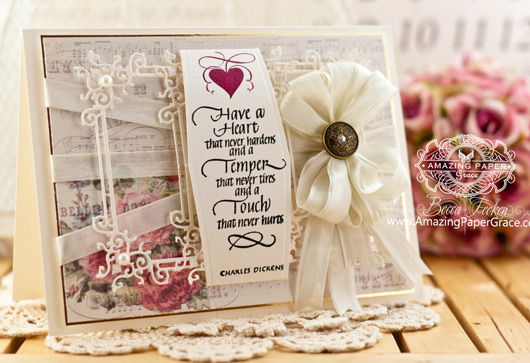 Sweet friends, how are you today?  Today I'm sharing the card I thought I'd share yesterday but kept getting distracted and made another card instead.  Ever have that happen to you?  Me too.  So many things call my name when I sit down to craft and don't even let me mention the computer – that's a whole nother thing. As I move through my room trying to find that flower that I know is over there somewhere, I pick up something I had to buy because I wanted to make a project right then.  Right then I start wondering why I never crafted that project then detour off to find out if I still have that set of things.  You get the idea, one detour leads to another and it's often hard to find my way back :-)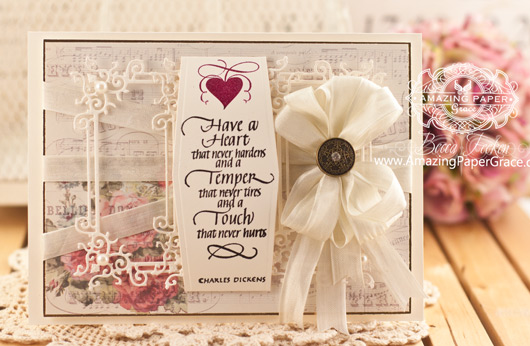 I used a nice Quietfire Design sentiment that's delightfully tall (like the wonderful tall kind of sentiment you'd use for bookmarks, which are on my list) called Have a Heart That Never Hardens.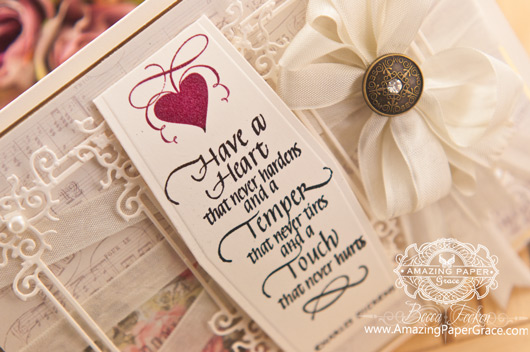 I created a card base 5-1/2″ x 7-1/2″ and used Spellbinders Blooming Collection to create a grid by overlapping two of the square motifs.  I stamped my sentiment onto Spellbinders Belly Band Two.  To mount it to the card I scored 1/4″ from each end of the belly band and folded it under applying double sided adhesive tape.  Once applied by tucking each end under the grid, the band arches a little bit – I liked that look just because it gives a little bit of dimension :-).  Once done I added ribbon, and bow and pearls.
Thank you so much for stopping by today.  I know you're busy in your every day lives so I'm grateful you peek in to see what I'm crafting.  Much to come in the future, so I hope you'll continue to hang out with me :-)
Question Parking Lot: