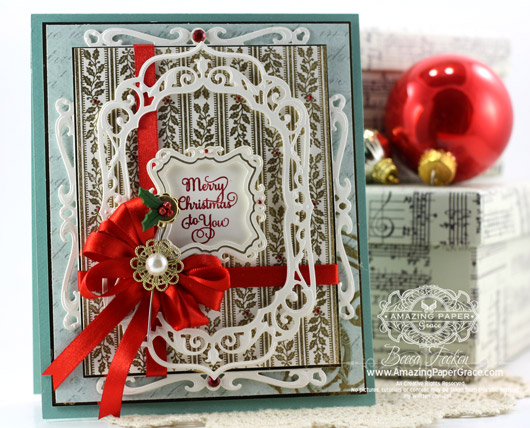 Happy Monday blog friends, I can't believe it's the last week of August!   I gave my Christmas tree and all the ornaments to my daughter when she moved last year so this year I'm starting all over.  I have one of those tall, skinny trees so I went Christmas 'window' shopping this weekend to begin to get my ducks in a row.  What I didn't remember was all the time it took to collect things that felt special.  On my first jaunt through the stores, I wasn't finding what I wanted so I can tell I'll have to have a little game plan this season.  In the mean time, I wanted to shake it up a little bit and add in a color I love but don't use so much.  Teal – swoon :-)  I'm back with another Christmas Card made using a gorgeous background stamp from JustRite Stampers called Holly Stripes Background Stamp. That's definitely where the inspiration started so I was set once I embossed in gold, and the rest of the embellishments fell into place.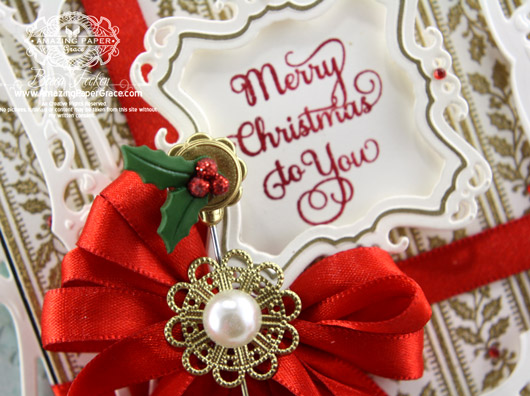 I decorated the panel behind the stamped background by using one of my favorite new Spellbinders Nestabilities –  Spellbinders Captivating Squares – since my card is a rectangle, I cut each end off and reattached adjusting to the size of my rectangle.  I added a frame made with Spellbinders Elegant Labels Four and Spellbinders Labels Four and finished off the interior with the smaller motifs from Captivating Squares and stamped with a sentiment from Festive Poinsettia.  I decorated the background with tiny red crystals for a pop of color and decided to go with a red satin ribbon.   I was so excited to get to use one of the new Spellbinders Hat Pins – I used the smaller of the Spellbinders Circle Hatpins.  Since I knew I wanted to used this little holly button to get a smidge of green in, I took the hatpin (originally silver) and filled the frame with hot glue then spritzed it and the bezel with gold paint and glued my holly leaf on.   It was the perfect size for a custom pop of color and elegance.  The little filigree circle on top of my bow was black, so I spritzed it gold paint as well.
Here's your Step-By-Step Recap, from the bottom up, just in case you'd like to make one too.  Start out with a card base cut to 5-5/8″ wide x 7″ tall, foam tape, gold matting layer 5-1/2″ x 6-5/8″, design paper layer 5-3/8″ x 6-1/2″, foam tape, gold layer 4-1/2″ x 5-5/8″ embellished with edges from Captivating Squares, stamped layer 4-3/8″ x 5-1/2″, foam tape, die cut layer using Elegant Labels Four, inside frame layer using two smallest motifs from Captivating Squares. Add ribbon, gems, hatpin.
SUPPLIES I USED
Stamps: JustRite Papercrafts – Holly Stripes Background Stamp
Paper: Neenah Classic Crest Natural White, DCWV, K and Company
Ink: Versamark, Amuse Cranberry
Accessories:   Spellbinders Captivating Squares, Spellbinders Elegant Labels Four, Spellbinders Labels Four, Spellbinders Circle Hatpins, Recollections Gems, Recollections Pearls, Satin Ribbon, Pilot Gold Marker, Becca's Bow Maker, Grand Calibur Die Cutting Machine
By the way (lol, I know someone will ask), I made the gold border in the center of my small sentiment frame by tracing on the emboss line with a fine Gold Marker while the paper was still in the die.  No mess and so easy – I hope you'll give that technique a try!  Two Christmas Cards down, many more to gooooooooo……   See you soon!
Just a heads up, JustRite Papercrafts is running a huge die sale – 20% off until September 1st!