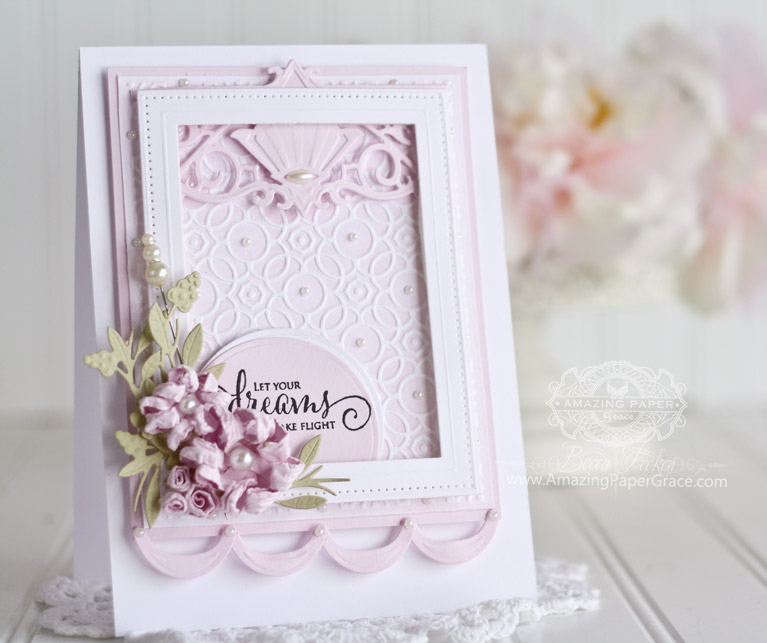 Good morning crafty friends!  It has been a productive week for me and I am walking more than ever.  This week I got caught up on all my mailings for Day of Giving Friday.  I have six cards here that are boxed and ready to go, just waiting for the winner to claim them.  Please check the name list found at this link –>Giveaway Winners<– and scroll down, there are cards that have not been claimed since March of this year and I'd love to send them out.  Today I'm sharing a new card that is up for grabs in our giveaway today.
For my card I started with a lovely embossed background using Spellbinders Overlapping Circles.  I framed the card using Spellbinders Pierced Rectangles and planted a decorative border at the top using Spellbinders Deco Duality.  The sentiment was stamped on layered Spellbinders Standard Circles Small and then trimmed to fit along the bottom.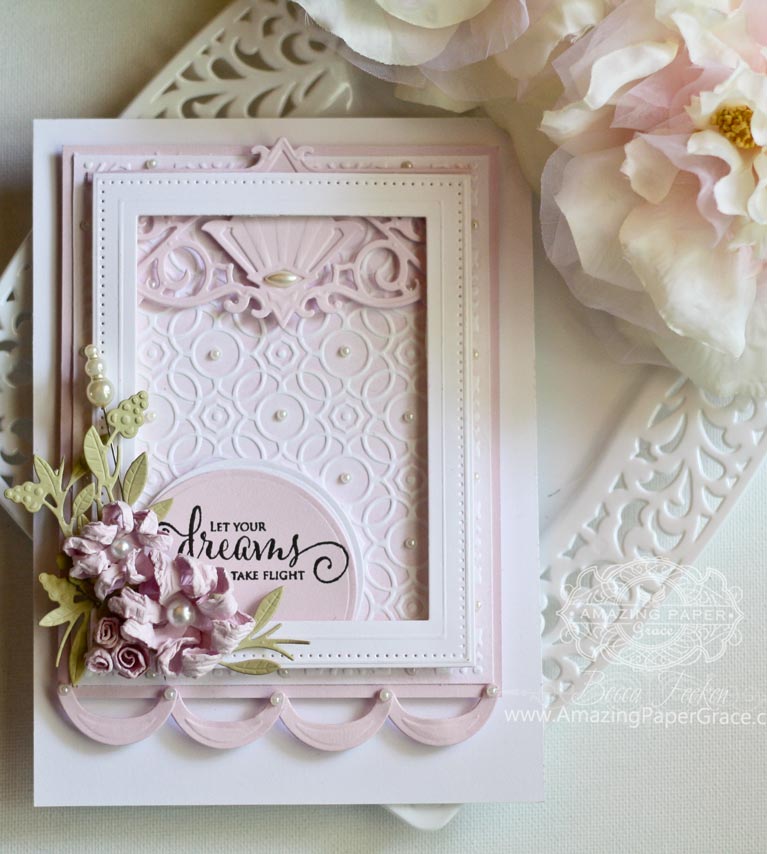 My favorite part of the card is the flowers; I used Spellbinders Stack and Fan Flowers.  For these flowers, the eight petals are connected together using a brad on one end then – I spritzed them and scrunched them to give them a different look connected the holes on the other end of each petal to form the loop.  The petite spiral flowers are made using one of the petals, then I used the same die, the petals for the Stack and Fan Flowers, to make the swag along the bottom of the card.  My goodness, that was one of those things that once done, a zillion ideas popped into my head about making these swags!  I added greenery to the flowers using Spellbinders Floral Berry Accents.
About Day of Giving Friday
For new readers, every Friday it's my pleasure to give away a card.   The card goes to a randomly picked reader (worldwide) who leaves a comment in our conversation. Want to know more about Day of Giving, here's a link to my FAQ's just check out #11.  You can check to see if your name is on the list of winners HERE.  For your comment:  What words of hope can you share today?



Rubber Stamps: Penny Black – Snippets
Craft Paper: Neenah Classic Crest – Solar White – Cover – 80lb smooth
Ink:   Versafine – Onyx Black
Accessories: Spellbinders Overlapping Circles. Spellbinders Pierced Rectangles, Spellbinders Deco Duality, Spellbinders Standard Circles Small, Spellbinders Stack and Fan Flowers, Spellbinders Floral Berry Accents, Recollection Pearls.


Thank you so much for stopping by!  I'm heading into a crafty week so I know I'll see you soon!