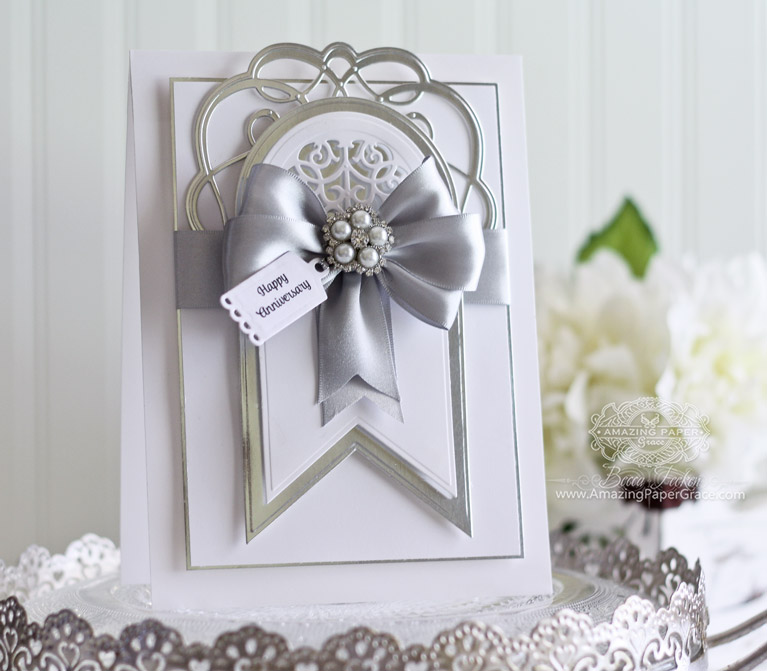 Good afternoon friends!  Well, I took a vacation that I didn't expect to take.  I had an event that was to take me away from my desk for a week, but that event fell through.  At the same time my kids all ended up being in the same place, at the same time – with me!  It was a surprise and what a pleasant surprise it was – a sure indication that everything happens for a reason.  It has been four years since everyone was together at home so we set out to enjoy some of the beautiful things in my area that I rarely get to see.  They literally unplugged my computer so that I wouldn't be tempted to do just one more thing.  What a blessing!  I'm so sorry that I missed Day of Giving Friday last week, but let's just say it was a good cause :-)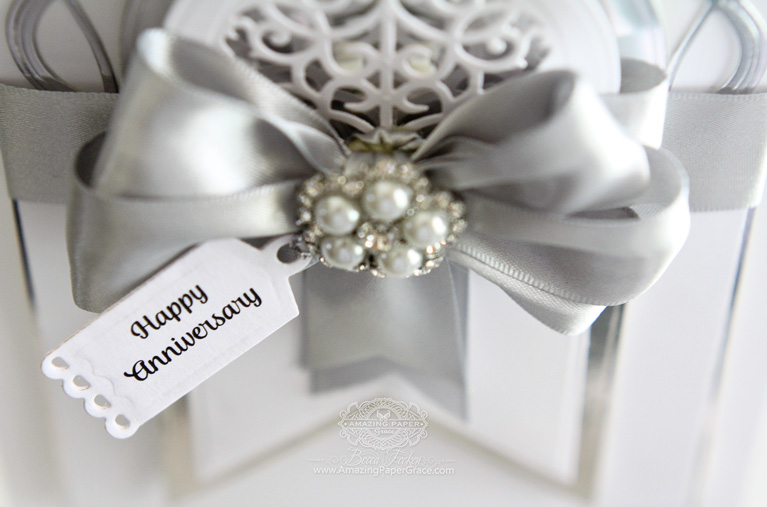 Today I want to share a classic card where the dies are the hero – they take center stage.  This is the type of card you can definitely make ahead of time and let the little tag herald the event.  Literally this card can cover any occasion because the tag will get you there.  I'm using some of my new dies for the first time (here) although personally I've made this card quite a few times.  Do I always say the dies are my favorites?  Well these are.   My heart is wrapped up in the dies I'm showing in this card . . . I want to reach for them all the time and I only hope I don't over use them in the coming months.
Here is how the card sets up – I have a 5-1/2″ x 7-1/2″ card base and to that card base I've added another layer that is backed by silver foil.  I'm using Spellbinders Swirling Grace as a halo type element so I cut one from silver and cut it in half.  On top of that I layer the largest pennant from Spellbinders Arched Swallowtail Pennants – cut in silver.  For the next layer, in white, I used the next largest Arched Swallowtail Pennants and at the same time cut the inlaid circle from Spellbinders Swirl Bliss.   I stretched a nice wide bow across the card and taped it behind the layers and finish off with a sentiment cut from the scalloped tag found in the Spellbinders Favorably Simply Gift Box set.   The sentiment itself was quickly print on my laser printer…
About Day of Giving Friday
Thanks for all my regular readers and welcome to new readers!  Just to bring you up to speed, every Friday it's my pleasure to give away a card.   The card goes to a randomly picked reader (worldwide) who leaves a comment in our conversation. Want to know more about Day of Giving, here's a link to my FAQ's just check out #11.
Life is full of the unexpected.  Although things didn't go quite the way I thought they would, what a pleasant surprise and the downtime was wonderful for me.  You can say instead of having lemons, we made wonderful lemonade.  For your comment today – Have you ever had an occasion where your plans fell through and what you ended up doing was a bigger blessing than the original event?


Rubber Stamps: None
Craft Paper: Neenah Classic Crest – Solar White – 80lb smooth cover cardstock, The Fine Touch – Silver Metallic Poster Board
Ink:  None
Accessories:  Spellbinders Swirling Grace, Spellbinders Arched Swallowtail Pennants, Spellbinders Swirl Bliss, Spellbinders Favorably Simply Gift Box, The Paper Source Satin Ribbon, button from my stash.

The only down side to be out of pocket for so long is what's waiting when you sit back down at your desk.  So bear with me, I have quite a bit of catch up to do but am so thankful to be busy! Have a great weekend friends!