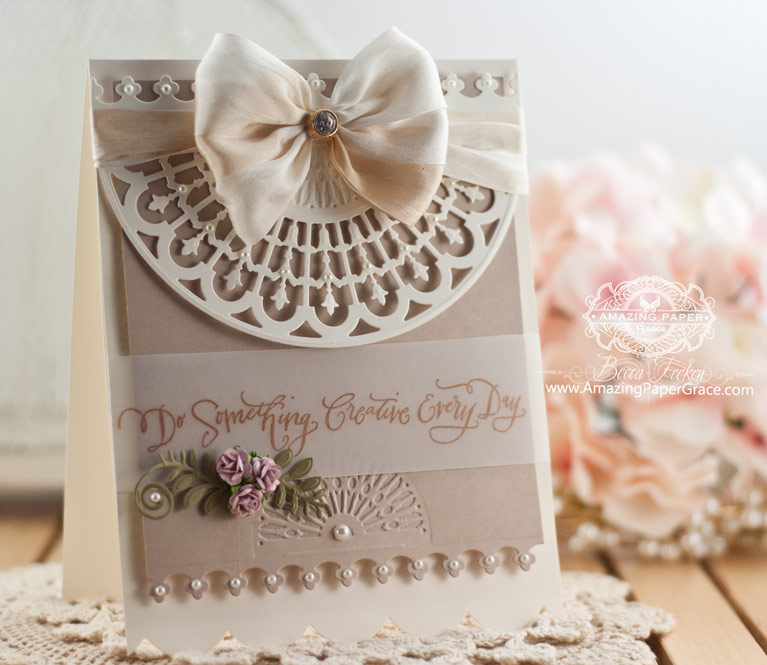 Today is Day 25 of the 30 Days of Giving.  Earlier this month we began the conversation talking about handwritten; preserving the written word by sending handmade gifts, handmade cards and handmade notes that show off the beauty of our authentic handwriting.  Because you care to send the very best, crafters put such attention and care into the things we make.  I pulled one of my favorite stamps out of my stash for today's card, I thought this month would be the perfect time to bring it back out.  It's my mantra.   When I'm cranky, I know what's missing – my creative break.  In my heart I know it doesn't have to be big production that I finish and show off to the world – it can be doodling, painting part of a wall, staging books on the table, arranging flowers picked from the garden.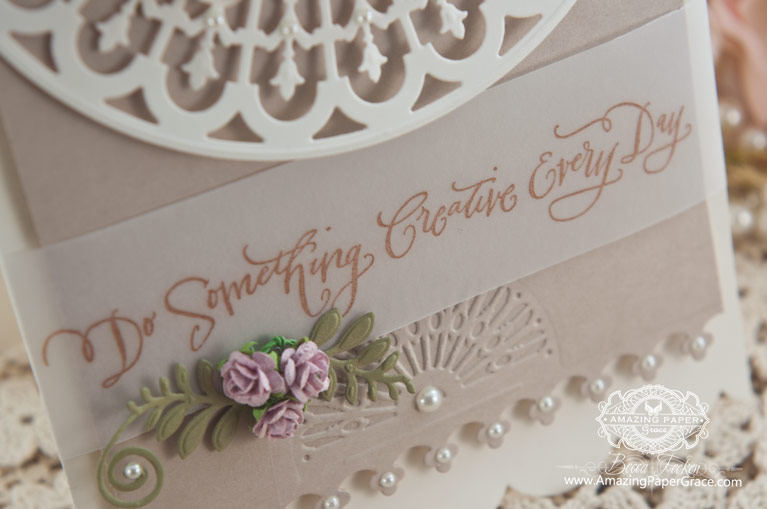 No doubt you've spied some pretty new supplies here today.  Spellbinders Victorian Arch die absolutely took my breath away and I shuffled it around on my table for a bit deciding how I wanted to use it.  Today I'm using it as a header but can you imagine how it can be used.  So delicate and lacy and the border is amazing.  I cut the half circle for use at the top of the card then just the outline die to cut the bottom Victorian Border.  For the bottom of my card I used Spellbinders Classic Scallop.  Vellum is a wonderful way to change out the sentiments used on this card format in the blink of an eye.  I used regular store bought vellum and got very good results by stamping with chalk ink – the brands I've used are Amuse Studio, Impress – Fresh Ink and Avery Elle.  This is the giveaway card for today and I'm including another sentiment that I stamped up but didn't use.  Card Size: 5-1/2″ x 7″
If you're new to the blog, welcome to my 30 Days of Giving – every day during the month of July I'm giving away a handmade card – you can read all the specifics HERE.  You can check to see if you've won a card by searching for your name on the Giveaway Winners page.  You get there by the menu at the top of the page – put your cursor on Features then look down the list and select Giveaway Winners.
For today's comment – Other than card making, what do you do to get your daily creative fix?


Rubber Stamps:  Paper Source – Do Something Creative Every Day
Paper: Neenah Classic Crest – Natural White 80 lb , Putty (EK Success Retired), ANW Crestwood Inc Alabaster Clear 12″ x 12″ Translucent Vellum
Ink:  Amuse Studio – French Roast
Accessories:  Spellbinders Victorian Arch, Spellbinders Classic Scallop, May Arts Silk Ribbon,  Prima Mulberry Flowers, Recollections Pearls, Button


Here's to hoping that you do something creative every day – even today!