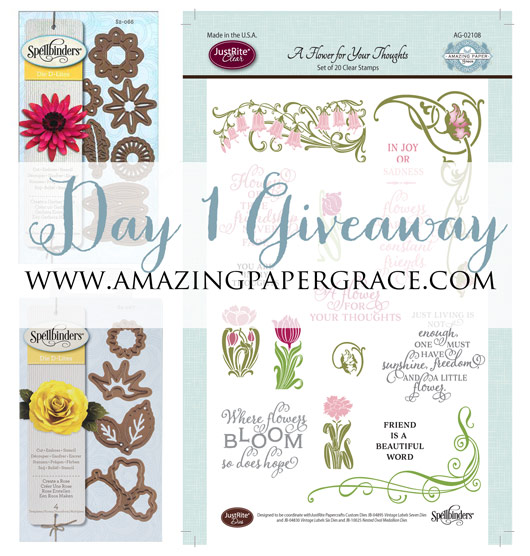 Hi there blog friends!!  It's a known fact that I can be a little impatient, especially when it comes to a surprise or something good.  I can't wait until midnight and you'll be away at a party later tonite, so the celebration starts right now!  As I do on every New Year, I've saved up some awesome stuff to give away!  So Happy New Year – early! Today I'm giving away two sets of dies and one of the sets of stamps I designed – a small token of my thanks for what you do all year.  Well, what would dies be without something to cut them right?  Hint, hint, you'll have to come back on January 1 to see what I'm giving away to go along with the dies.  For the prize today, simply leave a comment and share with me a one word wish for the New Year – you can leave a comment each day until the winner is selected.   I'll share the name of the winners for this prize on January 3rd.
To welcome in the New Year I made a card with the cute Spellbinders Painted Lady die template.  I've been dying to use and I thought it would be a perfect way to ring in the New Year.  The sentiment I simply printed off of my inkjet printer and cut using Spellbinders Back to Basics Tags.  Easy!
I can't wait for 2015, I have some surprises to share with you  . . .  like the first thing is I'm back in the saddle with YouTube.  So many of you asked me to get back into video tutorials so your wish is my command.  The first video should be airing soon!