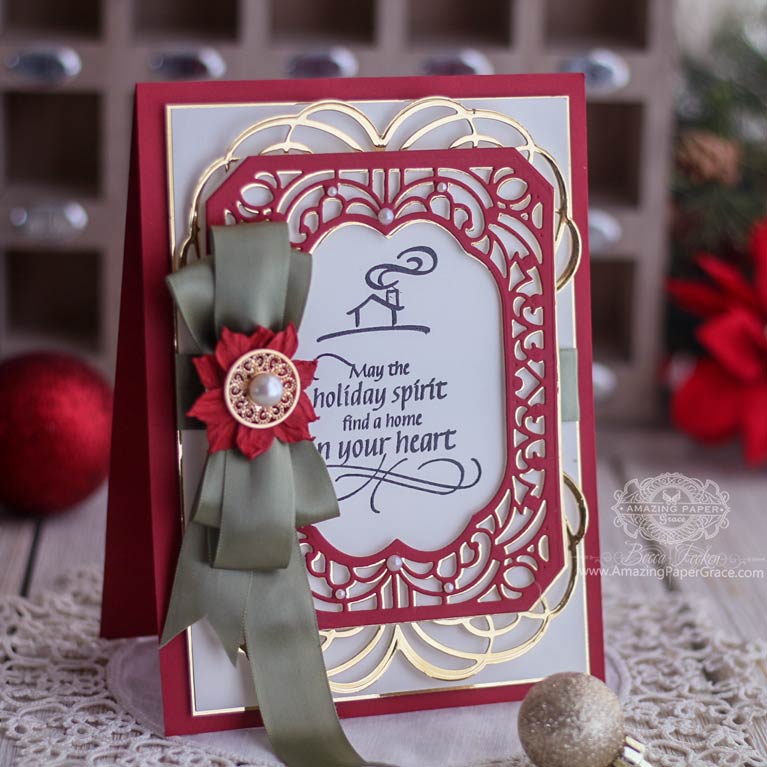 It's a beautiful thing to be able to sit and create for Christmas.  That was my thinking this morning as I pulled out some new Christmas stamps sent by my friend Suzanne Cannon with Quietfire Design.  It's honestly what I needed.  Just to stop the clock for an hour or two and sit down and pour my heart into thinking about the upcoming holidays.  You've heard me say it before . . . therapy . . . well, I got mine.  Oh and say, isn't this stamp set simply irresistible?  It fits perfectly on an A2 Card Front which I used as a focal point although I modified mine into an A7.  It's two pieces – sentiment and house from her May the Holiday Spirit Set.  I love what it has to say and it simply embodies the cozy way I feel about the holidays.  Bravo Suzanne!!
Design Thoughts
So let's break my card down.  It floats at the tippy top of my favorites so I knew for a Christmas Card with an open aperture, that Cannetille Rectangles would be a winner.  Yes, it is one of my favorites and because I've not been posting a lot lately, I haven't even begun to wear it out yet.  This is a die that I created specifically for the folks that write to me about A2 Card Fronts.  Voila – Cannetille!  It has beautiful filigree to frame or layer something on top of and for my A7 homies, it is right at home on a 5×7 or 5.5×7.5″ card – the latter is my go-to size.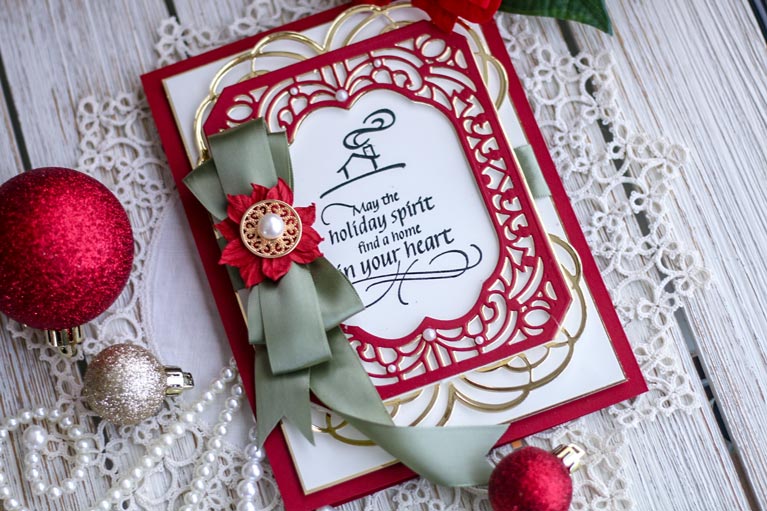 Because I love layering, I reached for Flourished Squares from my Romancing the Swirl Collection.  Although it's very pretty on its own, I reach for it often to layer behind something.  It gives it an open airy look with a little bit of flair.  I simply cut that design from gold paper and cut the motif in half.  I used half on the top and half on the bottom and it gave me a great layering base for an A2 card front.
If you are a Die Hard A2 cardmaker, you can certainly extract just that portion and you'll still have a lovely card! :-)
A2 Front Card Recipe:
Here are my layers from the bottom up:
Cardbase made from Bazzill Pomegranate Splash that measures 5.5″ x 7.5″
Foam Squares for elevation
Gold Cardstock that measures 5″ x 7″
Neenah Class Crest Natural White Cardstock that measures  4-7/8″ x 6-7/8″ – Ribbon goes across this layer
Foam Squares for elevation
Flourished Squares diecut from Gold Cardstock
Cannetille Rectangle diecut Solid Shape from Neenah CCNW Cardstock using 8 sided rim die – Stamp on this layer
Foam Squares for elevation
Shadows pairing of Cannetille Rectangle – Filigree Shape from Bazzill Pomegranate Splash and Gold Cardstock
Embellishments of: Pearls, Bow, Poinsettia, Button



Cardmaking is like exercising for the mind, right?  I hope you'll give this a whirl for an easy make.



Stamps:  Quietfire Design – May the Holiday Spirit Set
Paper:  Neenah Classic Crest – Natural White – Cover – 80lb smooth, Bazzill Pomegranite Splash, Gold Cardstock
Ink:  Versafine Onyx Black Ink
Accessories:  Amazing Paper Grace Dies Cannetille Rectangles, Flourished Squares


Blog Hop Winners
Jo Witney who left a comment on Becca's Blog on September 12, 2019 – 9:25 am
Diana Donaldson who left a comment on Joanna's Blog on September 12, 2019 – 17:07
In the meantime friends, thank you so much for stopping by and I hope you'll join us again on October 1st for a new Die of Month and a new Guest Designer.   Speaking of Guest Designers – Sheri Holt is churning out some fabulous cards this month – you can see Sheri's Amazing Paper Grace cards here!
I'll be back soon!!!