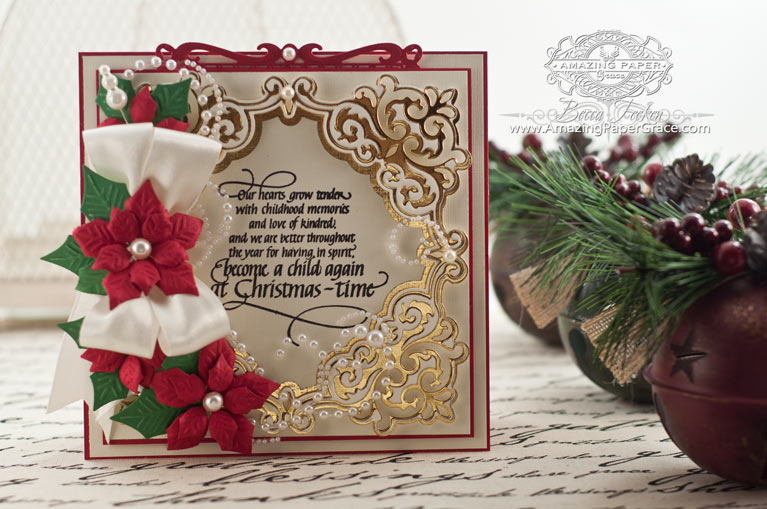 Good morning dear friends!   I received a sweet, sweet Christmas saying from my friends at Quietfire Design called Our Hearts Grow Tender and immediately began looking through dies for something to show it off in hopes of doing it a small measure of justice.  Coincidentally, I have 'new to me' dies sitting on the counter and was simply awestruck by Spellbinders Reverent Square.  I also used Spellbinders Layered Poinsettia, a staple in my stash!  Lets just say that I fell in love at first cut and played around and dreamed – that's really how it goes.  I'm a die lover and there's always a moment before it's first cut that is filled with the anticipation of  what you're going to get.  Better than a box of chocolates!  As a creative, it's a blessing, others call it therapy :-)  I'm creating a lot these days, but this kind of playing around keeps me grounded.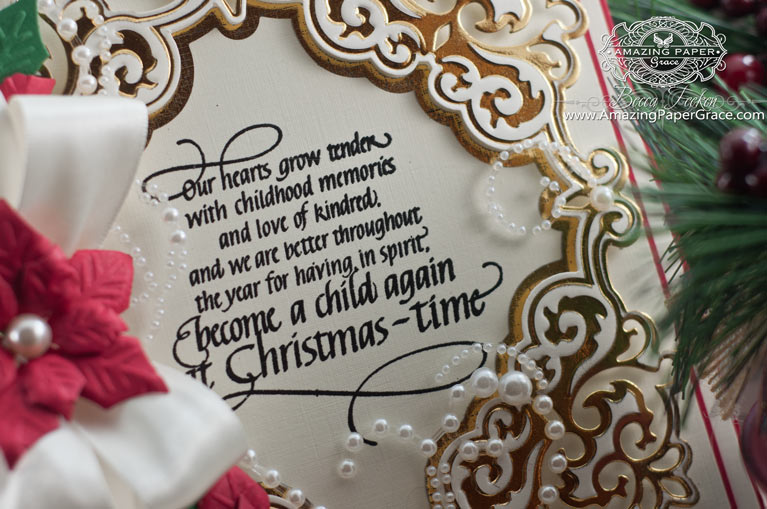 This is a simple card – truly the die and stamps do all the work.  I decided to minc Spellbinders Reverent Square, but it's just as easy to cut it in gold.  If you don't have a minc machine – no worries – it's just a tool I really like to use but simply cutting the die in gold is so close to mincing that you really have to look to tell the difference.  It's so subtle but essentially you get the same look, just different highlights – I snapped a picture to show you the difference below.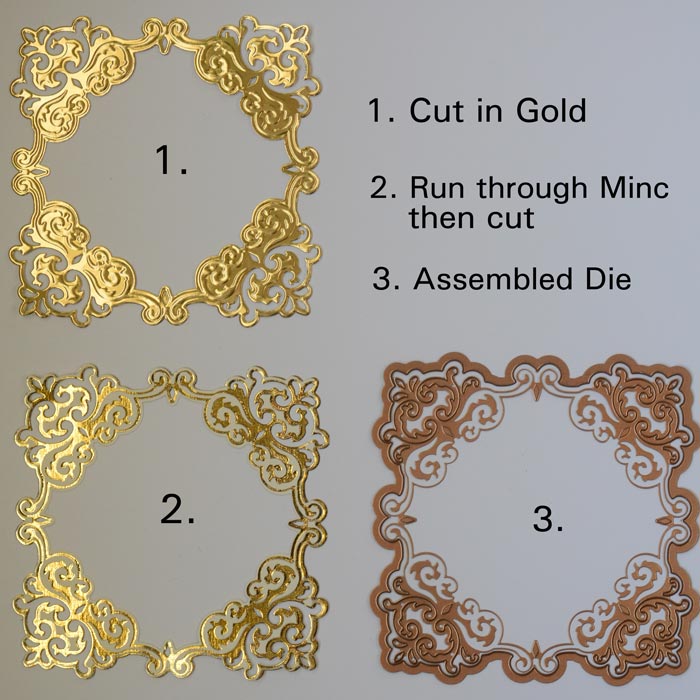 Oh, and I thought the occasion called for a sweet tag using the Layered Poinsettia and Spellbinders Mary Border Strip :-)



Rubber Stamps: Quietfire Design – Our Hearts Grow Tender
Craft Paper: Vintage Cream Linen, Pure Poppy – Papertrey Ink
Ink: Versafine Onyx Black and Ranger Clear Detail Embossing Powder
Accessories:  Spellbinders Reverent Square, Spellbinders Captivating Squares, Spellbinders Layered Poinsettia, Spellbinders Mary Border Strip, Satin Ribbon, Recollection Pearls, Prima Swirl Pink Pearls


Thanks so much for stopping by today.  More soon!