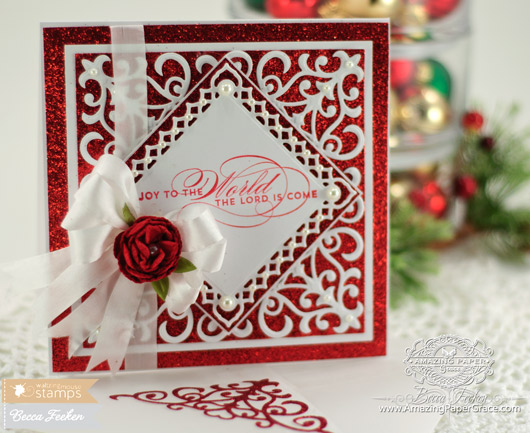 Hi there blog friends, we're back for Day 2 of  "A Waltzingmouse Christmas"!  Today we're sharing Christmas cards for both the new sets and the ones you have in your stash.  Every season I try to make one or two 'red' cards, so this is my second of the season, I just love the punch of red.  A little bit outside of my zone, you'll notice that this one is glit-ter-ray!  My friends will laugh because I don't normally do glitter — me and glitter, don't get along – it's a disaster waiting to happen.  I was in a happy spot with this glitter paper; I think the glitter tide is turning.   I picked one of the elegant new Waltzingmouse Stamps sentiments from Seasonal Flourish.  It's done on a backdrop of four corner elements from Spellbinders Grand Squares, Spellbinders Corner Flourish and Spellbinders Captivating Squares.  I crafted an envelop from vellum to show off that splash of red and decorated the flap with a glittered Corner Flourish.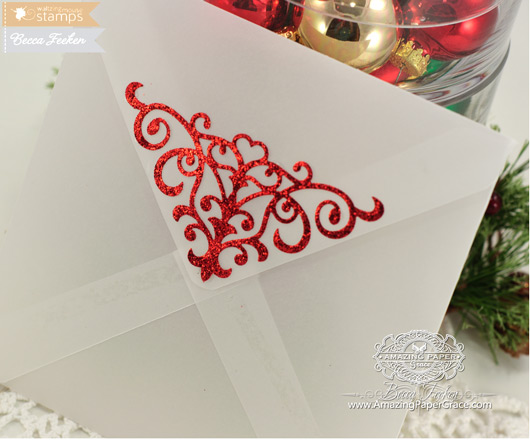 Someone will ask, so yes, the card really does fit into the envelope :-)



Here's your Step By Step Recap of die cuts and layers, from the bottom up:  Start out with a Card Base  5-1/2″ tall by 5-1/2″wide , foam tape, glitter paper layer cut to 5-3/8″ x 5-3/8″, foam tape, white matting layer cut to 4-3/4″ x 4-3/4″, glitter paper layer cut with Grand Squares #2, adhere a corner flourish in each corner, foam tape, white matting layer 3-1/8″ x 3-1/8″, glitter paper layer cut to 3-1/16″ x 3-1/16″, foam tape, die cut layer using Captivating Squares.  As always, stack, position ribbon, bow, pearls and flowers on correct layer, admire then glue! Add a corner flourish to your store bought envelope or one you make for a special custom touch.
For more delicious Christmas inspiration pop in on these designers:
Anya Schrier • Becca Feeken • Jeanne Jachna • Jen Cuthbertson • Jennifer Holmes • Julia Aston • Karin Åkesdotter • Kelly Schirmer •  Lynn Mercurio • Renee Lynch •  Teresa Kline • Tosha Leyendekker • Claire Brennan • Sandie Dunne • Edna Morrisedie
Once you see what everyone has in store, you'll surely be in the mood for Christmas.  I'll be back tomorrow!