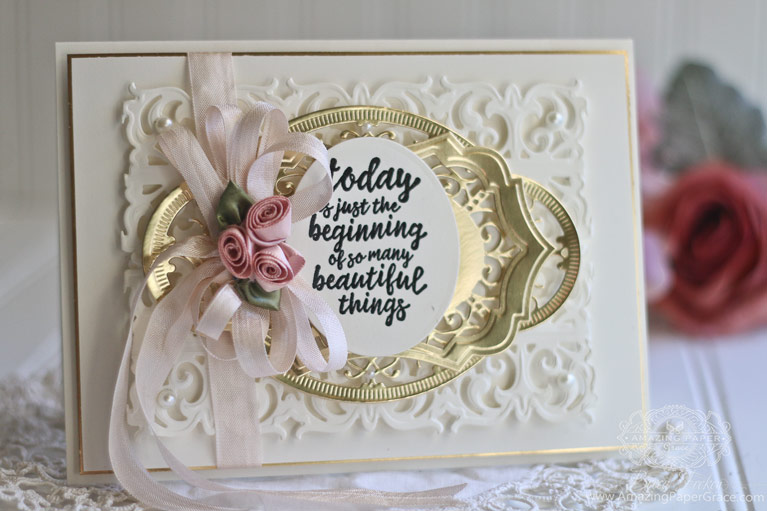 Last week was one of dreams!  The Creative Team and I have been just waiting to roll out some inspiration for 3D Vignettes.  Of course we needed to wait until your local retailer and favorite online retailer had them in stock.  If they don't have them, let them know you'd like them!  (Hint, hint: I have it on good authority that the dies are now available on the Spellbinders Website right now – you can see them HERE)  Today I'll share the die winners and can't wait to share the 3D Vignette Number inspiration and I have a card of my own to share as well!
Today, the Creative Team is showing you new dies but I never forget that you may have purchased some of the ones I designed a while ago.  Today I'm sharing a go-to style of card of mine – cream and gold with one central focal panel.  I'm using Hannah Elise Layering Frame,  Francesca Label, and Graceful Damask Border.  I used Hemstitch Ovals here but you can use any oval in your stash.  This is the type of card that everyone can do!
Lets Make a Layered Card:
 Create a card base that is 5.5″ x 7.5″.
 For the bottom layer cut a panel to 5-1/8″ x 7-1/8″ and mat with gold.
 Create a foundation pattern by cutting Graceful Damask Border back to back – it will yield a 2/1/4″ element – you'll need two.  (If it   seems difficult to cut two Damask Borders back to back, then simply cut four Damask Borders).
 Use doubly stacked foam tape strategically on the backside of the borders to adhere to card base, cutting small strips that cannot be seen from the front side or the gold layering focal element cut and emboss one  Hannah Elise Layering Frame
 For the detail layer of the gold layering cut and emboss one  Francesca Label
 Adhere the pairing  to previous layer and card base with doubly stacked foam tape.
 Cut the smallest cutting rim from   Hemstitch Ovals for your sentiment and attach with doubly stacked foam tape.
 Embellish with ribbon and flowers



Stamps:  From my stash
Paper:  Neenah Classic Crest – Natural White – 80lb card stock
Ink:  Versafine Onyx Black, Ranger Victorian Velvet Distress Ink
Accessories:  Amazing Paper Grace Dies by Spellbinders,  Hannah Elise Layering Frame, Francesca Label, Graceful Damask Border, Hemstitch Ovals, Seam binding, Recollection Pearl Stickers
and now randomly picked from each blog:
The Winners
joannakrog.blogspot.com – Denise Sanchez
victorianpaperqueen.blogspot.com – Ewelina
prettypaperpearls.blogspot.com/- Crafty Cruiser (Doreen R)
keepsakesbymelissa.blogspot.com – D.ann.C
amazingpapergrace.com/blog – SuzzieQ
judyhayesdesign.blogspot.com/ – jordanbev5
For the current winners, please pop over to my blog and select the contact tab in the upper right hand corner.  Be sure to leave your mailing address as well as your choice of die from the Chantilly Lace Collection.  (You have two weeks to claim you prize)
On another note, we have a set of winners whose prizes have not gone out yet, but will go out this week with a bonus die I'll slip in for their patience and long, long wait.  My apologies, I needed to wait for new stock to arrive and was overwhelmed with some design deadlines.  I only hope some extra little goodies will make up for my failure.   Just acknowledging those past winners and saying I'm so sorry – your dies are on the way!!
And now on to the Creative Team, they are sharing some inspiration as well!!
The Creative Team has a treat for you this week, "We Have Your Number".  There was so much to show with our introduction to 3D Vignettes that we didn't have time to give a hearty introduction the Filigree Numbers – we thought they deserved a round of their own.  The numbers are large at almost 2 inches.  They fit perfectly in all of the 3D Vignette Grand Bases but that's not all!  Have a look at this weeks inspiration: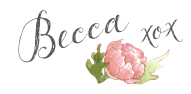 Thanks so much for joining us for all the fun!!!  More inspiration to come!!