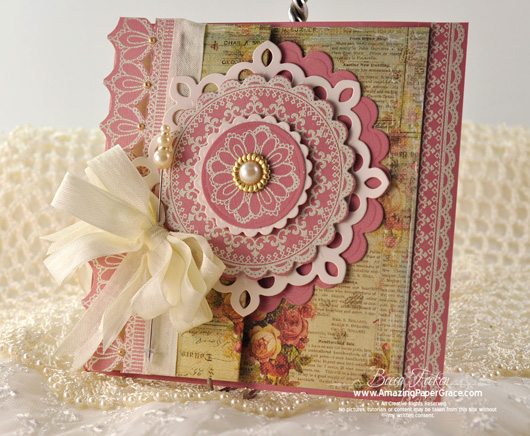 Hi there friends!  Thanks so much for your kind words yesterday, I particularly enjoyed working on that project.  The same is true for today . . . This week is brimming with new releases so I have a card to share with you today –  it's a Z Fold Card – I thought it would work perfectly with the layers I wanted to have. The set I'm sharing is from JustRite Stampers and is called Grandma's Doilies.  I'm also sharing Lace Borders that were released yesterday as well as the inside sentiment from Old Friends, also being released today. I sorted through my Spellbinders to find out what would stack up for this card.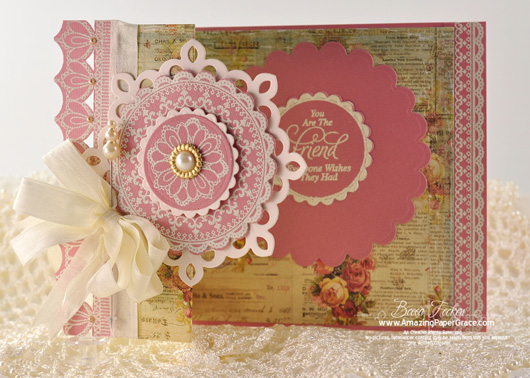 So . . . on the bottom I started with Spellbinders™ Classic Scalloped Circles LG, on the next layer up I used Spellbinders™ Fleur de Lis Motifs, two more layers of scalloped circles and finally Spellbinders™ Standard Circles LG.  When the left side border is pulled the card opens up.  (The sentiment inside says You Are the Friend Everyone Wishes They Had)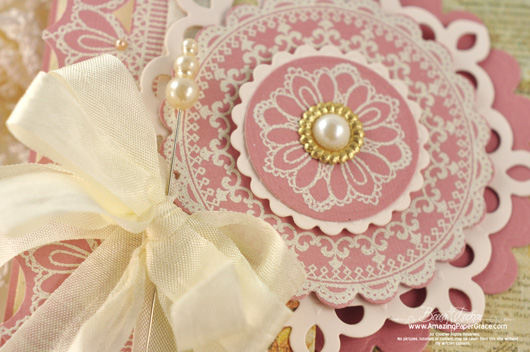 So, if you've been looking through a JustRite Catalog or have clicked over to see any of the sets you may have noticed a boxy set of marks that almost looks like a bar code – It's actually a QR Code.  As part  of JustRite's October Release they are introducing QR codes to all their new packaging and their catalogs.

QR codes are popping up everywhere and you may have wondered what they were. What is a QR (Quick Response Code)?  Scannning the QR code with your phone will bring you directly to a website or landing page.  The JustRite QR Codes on the packaging and in JustRites Catalog will link a stamp set to JustRite's Design Gallery for that set.  Now you can scan the code with your phone to see what your favorite designers have created with a set.  You can use your smartphone to access the design gallery for your stamp set from your craft room when you are ready to use your set or from our mini flyers or catalogs when you are sitting in a car waiting to pick up your child from a sporting event!!

 Here is a smaller version of our Shabby Chic Labels Four QR code for you to play with if you have a smart phone!!  Very cool huh?
Here are some of the current QR apps – for your iPhone – Red Laser (free),  NeoReader (free),  Optiscan ($1.99)  For your Android Phone – QR Droid.
Blog Candy Alert – Don't forget that there is Blog Candy on the JustRite Blog – it's a $50.00 shopping Spree.  To enter to win go to the JustRite Blog and answer the blog candy question.  The Blog Candy is open for comments until Friday Night at 12 pm EST.  The winner will be announced on the JustRite Blog on Monday October 3rd during the release post.  Good luck to everyone!
Thanks so much for peeking in on what I'm working on.  Here's a list of JR Designers who have creations today too!
JustRite Inspiration
Becca Feeken
Debbie Olson
Mona Pendleton
Sharon Harnist
Kathy Jones
Kazan Clark
Stephanie Kraft
Heidi Blankenship
Michele Kovack
Sankari Wegman
Kellie Fortin 
Angela Barkhouse
Barb Schram