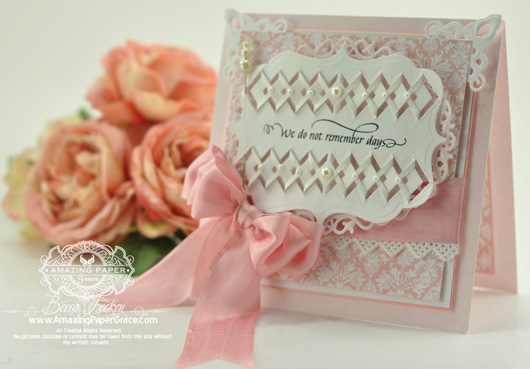 Do you all remember an old song from the 60's – I'm Gonna Make You Love Me?   I had to laugh because I have a die template that's been sitting on my desk that I wanted to love but I wasn't quite sure what I wanted to do with it.  Every time I'd make a card, it would get into my "let's try this" pile only to be weeded out because I wasn't sure where to use it.  Well this weekend that little die template just kept saying 'I'm gonna make you love me' and honestly, by the time I was done with it, all I could think was "yep, I do".   As I put the bow on the card today, that song keeps going through my mind (smile)!!     I reached out for a new Quietfire Design set We Do Not Remember Days – it fit perfectly in the space I carved out for a sentiment!!
So for this card, I prepared my card base (saving the bow for last)  including the corner pieces from Spellbinders™ Asian Accents.  Then I built another layer using Spellbinders™ Floral Oval and finished off by using Spellbinders™ Jar Labels.  Before attaching the last layer, I used Spellbinders™ Diamond Strips and Accents to cut an inlaid pattern on the existing die template cut out and finished up by stamping the first of a two part sentiment.  Once all the edges were tucked under on the die template, I embellished with pearls.
I rarely decorate the inside of my cards because I leave room for writing a letter or note.  This time though, since the sentiment is set up so nicely to use in two different places, I stamped the remainder of the sentiment on the inside on a panel using Spellbinders™ Resplendent Rectangles.
Bless you all for the kindness you always show me, please know I feel it's a gift I'm so blessed to receive.  I thank you for the moment you take to stop by and I only hope you are able to take some tidbit away that might make your day or your crafting time better.   I feel indebted to the wonderful readers here!!