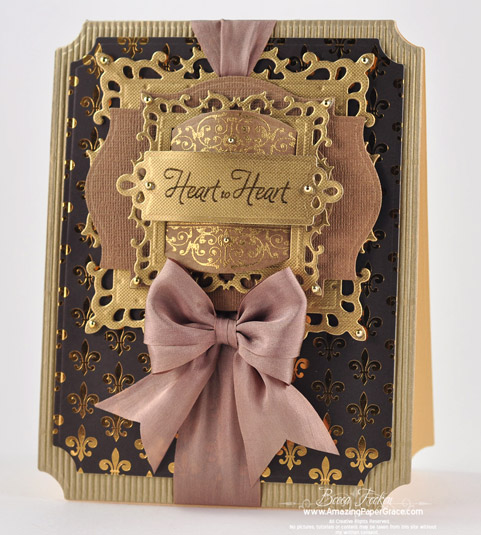 Well, my designing took a turn and I went off on a tangent :-)   I was working on a tutorial when this card popped right into my mind – does that ever happen to you lol?  I love to use gold but this is a new combination for me, gold and brown!  What happened is I touched that corrugated gold paper I used on the background and wanted to use it right away.  Today I'm showing a new set of stamps by JustRite Stampers called Heart to Heart Borders.  It is elegance in it's richest form so I thought the gold, the embossed fleur design and the golden corrugated paper were perfect.  This is layered up, but because it uses layers of die cuts — there is no other measuring!!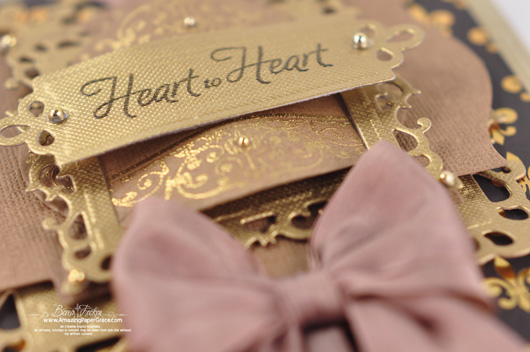 I used Spellbinders Grand Large Labels #5 to cut my card base and layered with the next smaller size, #4.   Then I created a medallion that consists of Spellbinders Fleur de Lis Squares, Spellbinders Labels Eighteen, a frame cut with Fleur de Lis Squares and Spellbinders Classic Squares SM.  I interlocked Spellbinders Classic Ovals LG and lastly JustRite Custom Die – Nested Frames! I threaded my ribbon through the Fleur de Lis Square and added some gold pearls!!
Have a look at what some of the other designers have done with this set:
JustRite Stampers Blog
Becca Feeken (that's me)
Sharon Harnist
Kathy Jones
Heidi Blankenship
Angela Barkhouse
Thanks for stopping by today!!  I'm blog hopping with some special friends tomorrow, I hope you'll peek in!!  ETA: Oh my goodness, this was scheduled for earlier and got stuck – no it wasn't your imagination!!