Happy Memorial Day. I'm grateful for the opportunity to salute those who have given their lives to preserve the freedoms we enjoy every day. As the wife, sister and daughter and daughter-in-law of veterans, I have such respect for those who bravely step forward to defend our liberties. An everlasting thanks to those who sacrificed so much.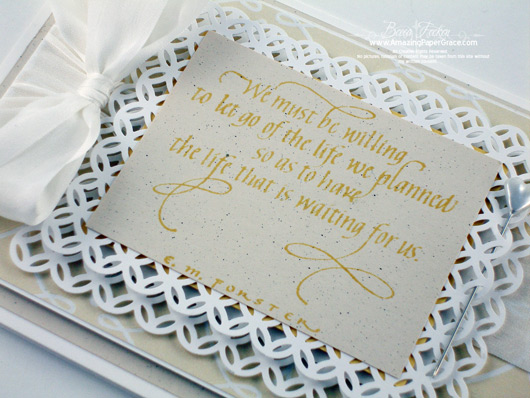 I have a card to share today with one of my most favorite quotes. Perhaps you remember me using the quote HERE? Well courtesy of Quietfire Design, Suzanne penned the quote and committed it to rubber!! Oh the wisdom of words, just in thinking about this quote there are so many occasions it will fit. For me, this is such a breath of optimism . . . it says let go and just be you!
This is a clean and simple card for me. I used a MS punch that needed some fudging to make the layers work. If you're curious what I mean about fudging, I have a tutorial HERE.
Card Recipe:

Stamps: Quietfire Design – We Must Be Willing to Let Go
Paper: NRN, White cardstock
Ink: Distress Ink – Scattered Straw
Accessories: Martha Stewart Modern Garland Corner and Border Punch, Silk Ribbon, Pearls, Heart Pin
Take care friends!