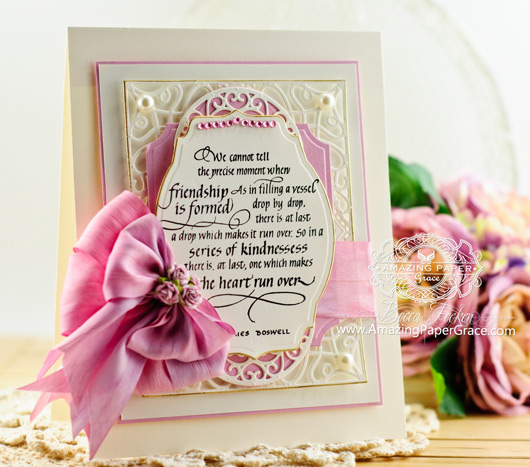 … when friendship is formed.  I have been planning to use this stamp for quite some time, it's one of my hands down all time favorite sentiments.  So much so, that I have it twice.   I had it from another company that retired it but this one is current and and is available from Quietfire Design.  Such a beautiful thought and this sentiment describes that special realization when you have a keeper.  This one goes in my #written word line up for a friend.
I used Spellbinders A2 Tranquil Moments paired with Spellbinders Labels Twenty Eight and Spellbinders Labels Thirty Six.  Believe it or not, the round embellishment is Spellbinders Window Two D-Lite.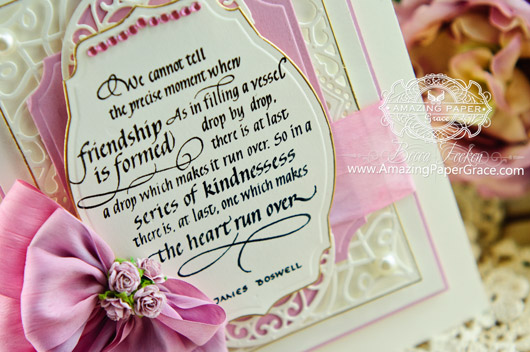 Here's how I made it – step by step:
Create a card base with cream card stock that measures 5″ x 7″.  (Card bases is made with two pieces of 5-1/2″ x 8-1/2″' paper scored and glued as in this Hinge Video.)
With cream paper, cut a panel 4-1/2″ x 5-3/4″ and mat it with a lavender moon panel cut to 4-5/8″ x 5-7/8″.  Adhere with cream on top.
Cut/emboss Tranquil Moments from cream paper, rim with Krylon Pen and adhere to cream/lavender panel.
Cut/emboss Labels Twenty Eight with lavender moon.
Cut/emboss two D-Lite Window Two dies and cut off curved top, apply to lavender die cut with glue.  Adhere to previous layer with foam tape.
Wrap ribbon horizontally around card, taping on back.  Adhere grouping to card base.
Cut/emboss Labels Thirty Six, stamp with sentiment, rim with Krylon Pen, adhere to card base with double foam tape.
Attach bow to left corner of card.  Add Flowers and Pearls.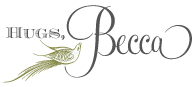 Hope you are enjoying your weekend.  I'll be back tomorrow with more goodies!!