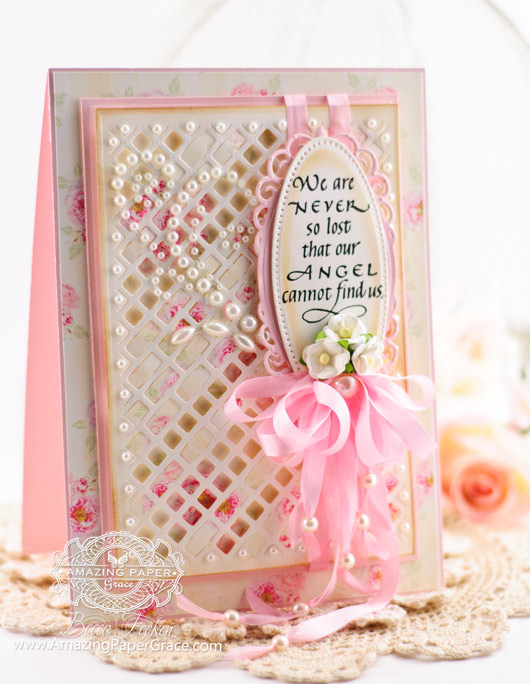 Good morning beautiful friends, today I'm sharing a lovely sentiment by Quietfire Design for a 'sweet friend' card called We are Never so Lost.  I love that it's a tall, skinny sentiment and I thought it would fit perfectly on the long oval from Spellbinders Radiant Rectangles.  It did fit perfectly and I backed it with the scalloped oval from Spellbinders 5 x 7 Mystical Embrace.  Lol, that's when everything I originally planned for the card went haywire.  I love the grid background from Spellbinders Basic Lattice.  I've been playing around with weaving paper strips from a floral paper through the die cut background but once it was done, I felt that the texture I was looking for was gone – you actually had to look close to see the weaving. So, I decided to pull some of the strips out randomly but then I didn't care for the pink showing through so I dumped the pink and put the same design paper behind the weaving.  Oh the trials, but it works out that way some times.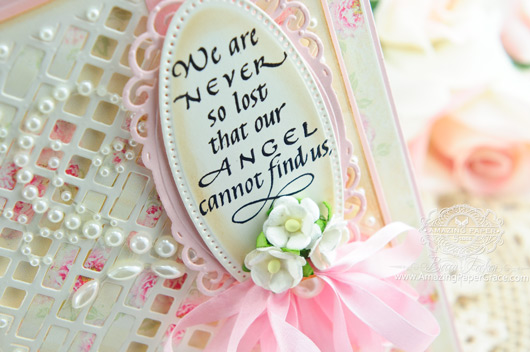 The pink layer and the underlying die cut layer behind the weaving were cut using Spellbinders 5 x 7 Matting Basics A.  I finished off with pearls around and a fluffy silk bow.  I know you're thinking the weaving could be tedious?  Not so, I cut 7 strips of paper and it took about five minutes.  My tweezers were definitely the hero.
Here's how I made it – step by step:

Create a card base with pink cardstock that measures 5-1/2″ x 7-1/2″.  (Card bases are made with two pieces of 5-1/2″ x 8-1/2″ paper scored and glued as in this Hinge Video.  

With design paper, cut a panel 5-3/8″ x 7-3/8″.  Adhere directly to card base.

Cut/emboss Matting Basics A #7 with pink paper then cut/emboss Matting Basics A #6 with design paper adhere together with smaller on top.

Cut/emboss Basic Lattice from design paper.

From same design paper paper cut about 7 strips just shy of 1/4″ wide.  

Weave up and down through randomly picked rows.    Place two 1/4″ vertical bands of ribbon on right side of card, tape on back.  

Adhere to Matting Basics pairing with double foam tape.

Then, attach focal panel to card base using foam tape.

Cut/emboss elongated scalloped piece from 5 x 7 Mystical Embrace – attach with double foam tape.

Cut/emboss long oval from Radiant Rectangles, stamp We Never Are So Lost sentiment then adhere to card base with foam tape.

Embellish Basic Lattice with pearls.

Attach loopy bow and mulberry flowers to bottom of oval.

Add pearls to several of the bow tails.
Thanks so very much for stopping by today.  Working on more crafty goodness, so I hope to see you soon!
Question Parking Lot: