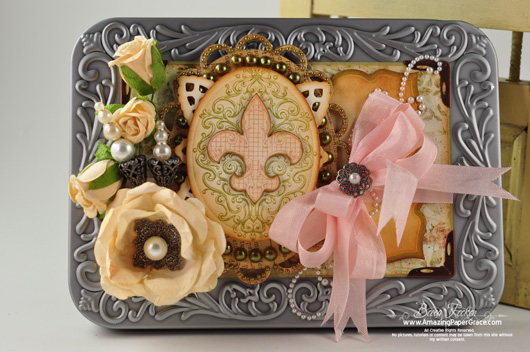 Hi there blog friends!!  Just in the nick of time – something very exciting :-)   Want2Scrap™, Spellbinders™ Paper Arts and JustRite® Stampers Designers have teamed up to bring you an amazing four day Blog Hop Event!!  New creations to see every day, September 6th through 9th is filled with fabulous designs that are sure to inspire all!!  Each day we will be sharing a link list with you (at the end of my post) for the featured designers and we will have a master link list just in case you happen to miss one of the days.
What would a blog hop be without prizes?   Of course, we will also be giving away prizes!!
 Want2Scrap is giving away two $25.00 Gift Certificates.
Spellbinders Paper Arts is giving away two die template sets, a value of $24.99 each.
JustRite Stampers is giving away two stamp sets of the winners choice.
The prizes will be hidden amongst the blogs so be sure to visit all of the blogs and by leaving a comment at each, you increase your chances of winning!   The contest for the prizes will be open until midnight Saturday, September 10th.  Winners will be announced on Monday, September 12th on the company blogs.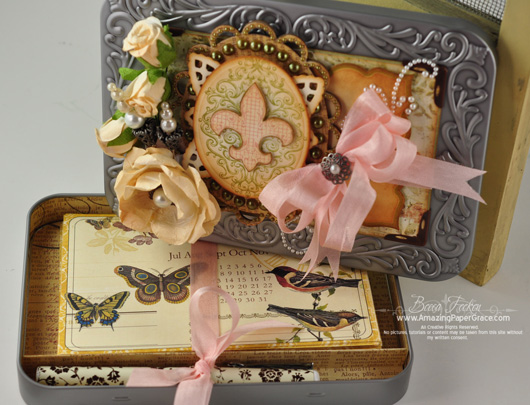 The project I'm sharing with you today is an altered tin that I've filled with post cards.  I picked the tin up at my local Borders that's going out of business, for next to nothing — so you know that made my heart sing!!  I printed off some Websters Pages digital post cards – for those of you who don't do digital, it's just as easy to do them manually with papers you already have!   For the inside of the tin, I simply lined with paper using an extra long length to give me enough room to score an additional 3/4″ for a small divider.  On the other side of the divider I could put a writing pen and could easily add a roll of stamps (hmmm, that's something I have seen in a long time).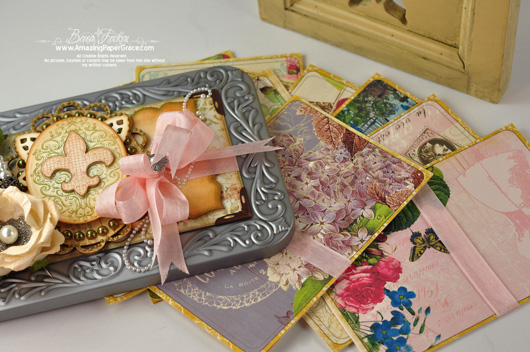 There are a total of 30 postcards inside the tin – 3 each of 10 different styles.  I put ribbon around each style so that they'd be easy to find.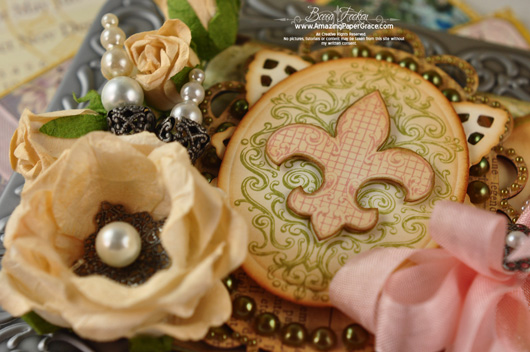 For this project I had lots of wonderful elements from each of these amazing companies to use to give the tin dimension. I started out with a base to cover the clear windowed lid – on top of the base I added Spellbinders™ Labels Twenty Three.  To build further I used a wonderful Want2Scrap™ Nestaboard™ Lacey Oval and cut a Spellbinders™ Lacey Oval from design paper to layer over the chipboard element – a perfect match!!  Now for the bling — I used Want2Scrap™ Nestabling™ Lacey Ovals in Mossy Pearl (love that color) – another perfect fit – even in each scallop!  Add on top of that – Spellbinders™ Lace Doily Accents.  Then onto Spellbinders™ Classic Ovals LG I stamped this wonderfully elegant Fleur de Lis from the new JustRite Stampers Cling sets called Bon Voyage and popped up an additional Fleur, stamped with a different color and edged with a copic marker.  I used a graceful swirly element  Want2Scrap™ Swirls Finesse Pearls to pull pearls over to the right side of my tin lid.  Everything works together so well that it made my project a breeze to put together.  Here's my supply list.
SUPPLIES I USED
Stamps:
JustRite Stampers Cling set –  Bon Voyage
Paper: Webster's Pages, Prima Botanical, My Minds Eye – Lost and Found, Neenah Classic Crest
Ink: Colorbox Chalk Ink – Dark Moss and Pink Pastel, Vintage Photo Distress Ink
Accessories:Spellbinders™ Labels Twenty Three, Spellbinders™ Lacey Oval, Spellbinders™ Lace Doily Accents, Spellbinders™ Classic Ovals LG, Want2Scrap™ Nestaboard™ Lacey Oval , Want2Scrap™ Nestabling™ Lacey Ovals in Mossy Pearl, Want2Scrap™ Swirls Finesse Pearls,   Prima Mulberry Flowers, Pearl Pics, Bead Landing metal findings, seam binding, Pearl Picks

If you are new to Want2Scrap, Spellbinders Paper Arts or JustRite Stampers here is a little information about all three of these amazing companies.   Each company offers a unique line of products that work wonderfully together to make some fabulous designs.
Want2Scrap™ manufacturers rhinestones lines including the specialty Nestabling™ line along with the newly released Nestaboard™ chipboard line that coordinates perfectly with the Spellbinders™ Nestabilities™ die templates. Want2Scrap™ also manufacturers their own line chipboard albums and accents, acrylic albums, and multi-layered laser designs and other fine scrapbooking products. Want2Scrap™ brings ease of use and flexibility in their product lines by offering products uniquely tailored to its customers' needs. Follow Want2Scrap on Facebook and the Want2Scrap Blog!
***
Sophistication, value and maximum versatility make Spellbinders™ die templates #1. Beautiful Details Inspiring Creativity…Spellbinders unique triple function die templates allow you to cut, emboss, and then stencil through the die template for unlimited possibilities. The Spellbinders Grand Calibur® and Spellbinders Grand Nestabilities™ cut and emboss up to 11¾", taking die cutting to grand proportions. Follow Spellbinders on Facebook, Twitter and the Spellbinders Blog!
 * * *
You can find all the links for each days event this week on the following manufacturer's blogs:
Want2Scrap™ Blog
Spellbinders Paper Arts Blog
JustRite Stampers Blog
Here are the designers for today, highlighted in purple!!  For your convenience I've put them here for the remainder of the hop this week:-)  These ladies are all super fabulous, pinky promise!  I hope you'll take a second to go and check out each and every one of them, throughout the week.           
 Thank you for joining us today and we hope you enjoy the Blog Hop.  Please be sure to stop back each day during the week to see what each designer has been busy creating!!