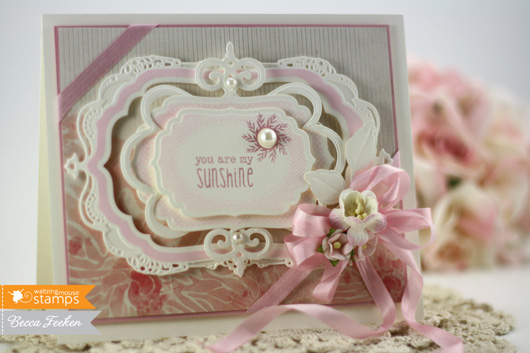 Hi there blog friends!!  You've seen bits and pieces and now you get to see the whole thing – that is, the two new sets we've been showing for the past couple of days with Waltzingmouse Stamps.    If you jumped in the middle of our list, the best way to make your way through the hop is to start at Claire's Blog she has the complete sequence if you get out of order or if one of the links don't work.  If you have just come here from Tosh's blog then you are in the right place!  In order complete the hop, leave a comment on as many of the Design Team Members Blogs as you can as a random name is selected from each blog and then a final winner picked from those names. The winner gets a free set of their choice of Waltzingmouse stamps. You have until June 1st at 5:59 AM CST to leave your comment and then you can check on the Claire's Blog on June 3 after 6am CST to see if you are a winner.  Stay tuned, below I'll tell you your next stop along the hop!!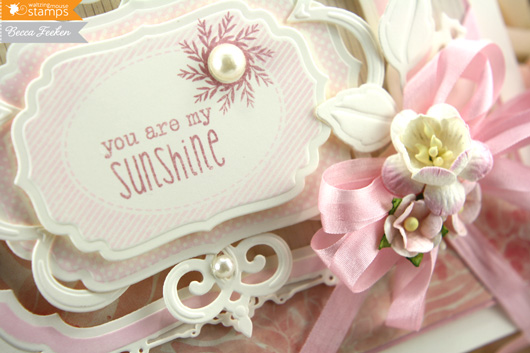 Here are links to each of the new sets:
Country Labels Four
Country Labels Four Cut Files
USA 1776
USA 1776 Cut Files
Today I wanted to create a framed card, so I started with Spellbinders® Gold Labels Four and Spellbinders® Labels Four cut at the same time to make a frame.  Then I cut another Labels Four and intertwine them so that parts of Spellbinders® Twisted Metal Tags and Accents falls in front and part falls in back.  I topped off with the smaller size of Labels Four and embellished my flowers with Spellbinders® Foliage.  As you can tell, I was in a foam tape mood today — I love using dies as frames and when elevating each layer, it gives the card depth.
So to recap the layers I used from the bottom up, my card base is 5-1/2″ x 6-1/2″, foam tape, Pink Matting Layer 4-7/8″ x 6″, design paper 4-3/4″ x 5-7/8″, foam tape, die cut layer Gold Labels Four and Labels Four (cut at same time to make frame), die cut layer Twisted Metal Tags and Accents with Labels Four, foam tape, die cut layer Labels Four.  Attach ribbons and sentiment on appropriate layer.
CRAFT SUPPLIES I USED
Rubber Stamps: Waltzingmouse Stamps – Country Labels Four
Craft Paper: Neenah Classic Crest – Smooth – Natural White, My Minds Eye
Ink: Amuse – Shell, Victorian Velvet Distress Ink
Accessories:  Spellbinders® Gold Labels Four, Spellbinders® Labels Four, Spellbinders® Twisted Tags and Accents, Spellbinders® Foliage, May Arts Silk Ribbon, Mulberry Flowers, Recollections Pearls, Becca's Bow Maker,  Grand Calibur Die Cut Machine
On to the next gorgeous creation, your next stop is with Clare Buswell.
Wishing blessings upon you as you meander through your week!