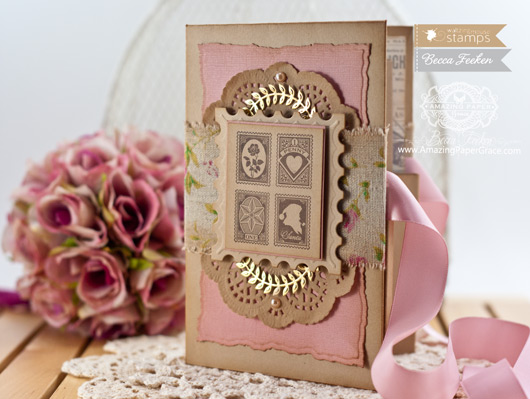 Hi there blog friends!  Today is Day Two of the new releases for Waltzingmouse Stamps.  When I started stamping, the first thing I ever made was a little portfolio with cards in it that tied on the side.  Going back to my roots, I'm using today's PostCard Set to embellish a little folder, brimmed to the top with vintage look postcards.  My hope would be that they are enticing enough to challenge someone to write a word or two.  Projects don't get much easier than this, perhaps that's why it was my first beginner project and perhaps that's why it's so easy to revisit.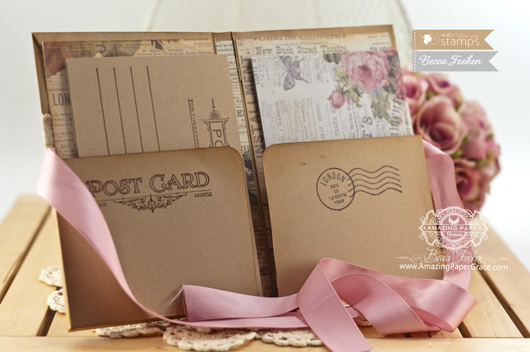 My post cards are 6″ x 4″ each and the portfolio measures 6-3/4″ x 4-1/2″.  I used Pink Paislee London Market Design paper on the backsides of the postcards.  I love the paper, I have it in 12 x 12, 6 x 6 and also in digital format also which make it easy to print out and use for the project.  On the front I created a panel using Spellbinders Postage Stamps and embellishing with Spellbinders Victorian Tassels.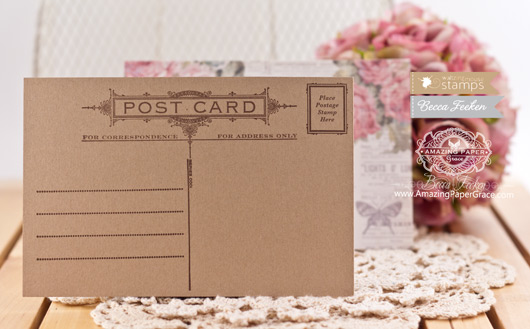 The other ladies have come up with some awesome samples.  Be sure to stop by and have a peek!  I hope you'll take a second to visit and see what they made today!
Thanks so much for stopping by, I'll see you tomorrow!