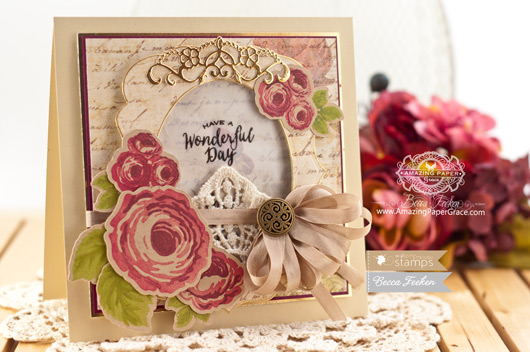 Hi there sweet blog friends!  Today is Day One of the new releases for Waltzingmouse Stamps – you're gonna swoon over the new sets!   By the way, the previews all lead up to release day which is Tuesday, December 2nd – at which time all of the products we're showing will be available on the Waltzingmouse Stamps website.    Today I'm sharing a card made with Country Roses – oh.my.goodness! This set is a piece of magic (let me explain).  I'm more of a precise kind of crafter, letting it all hang out doesn't come quite as easy as you might imagine.  I drive myself crazy when decorating a Christmas tree because sometime I try just a little too hard to balance instead of just going with the flow.  To my delight, you can't help but go with the flow with the Country Roses set.  After trial and error, I discovered that you simply cannot mess it up and believe me – if anyone could do that – it would be me, lol.  There are three layers to each image and you select three inks to use.  As long as you land in the same general area the results are stunning :-)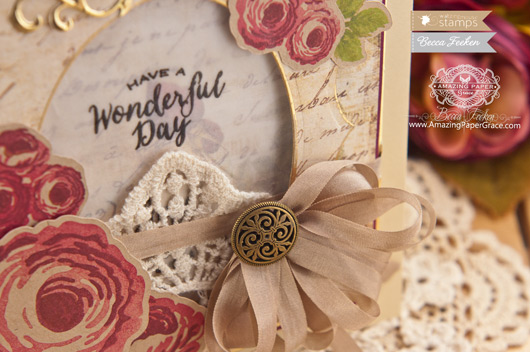 For my 6″ x 6″ card I layered gold and burgundy followed by this vintage Prima Design Paper – Stationers Desk and my sentiment stamped on vellum.  On top of that I layered Spellbinders Labels Thirty Nine and Spellbinders Classic Ovals LG #5. The Country Rose set has a set of digital cutting files that makes them easy to cut, stamp and embellish – but no worries, it's just as easy to fussy cut them.  I cut my roses and anchored them around the frame along with their leaves.  I finished off with a gold embellishment using Spellbinders Corners and Accents One, a bow, lace and button.  I just couldn't resist kraft and deep reds for a vintage look but these roses will look spectacular in any color!
SUPPLIES I USED
Stamps:  Waltzingmouse Stamps – Country Roses (Available 12/2)
Paper: PTI Fine Linen, Fine Line Poster Board (Gold) – Hobby Lobby, Kraft, Bazzill – Razzleberry Dark, Prima Stationers Desk, Vellum
Ink: Versafine Onyx Black and Clear Embossing Powder; Fresh Ink – Merlot, Cocoa, Tuscan Olive; Amuse Studio – Cranberry, Grass, Fern
Accessories: Spellbinders Labels Thirty Nine, Spellbinders Classic Ovals LG #5, Spellbinders Corners and Accents One, May Arts Silk Ribbon, Button, Lace, Krylon Gold Pen
The other ladies have come up with some awesome samples.  Be sure to stop by and have a peek!
Thanks so much for stopping by, I'll be back tomorrow afternoon with more goodies!
Question Parking Lot:
Desiree Young on comment #2 asked if I cut flowers then stamp or if I stamp then cut flowers.  Great question!   I cut flowers first then stamp them.  It's helpful to have clear stamps because you can line things up quite well but I must admit that to me it is just as easy to do with a stamp positioner.  You get a feel for centering them; I have the first couple that I stamped while experimenting and they are not quite on center but are still quite usable :-)