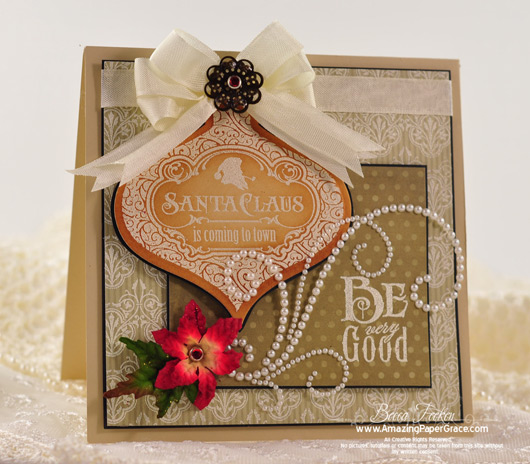 Hi there blog friends, I was rendered speechless yesterday when I got up to have a look at my blog.  Thank you from the bottom of my heart.  You pulled me up and ferried me over a sea of sadness yesterday and reminded me why I love to craft and blog.  Sweet tears of happiness and bonding as I read your advice and experiences! 
Well, I have two posts today, this is the first one and I'm time pressed to get it into place, but I'll be back in a couple of hours to chat.  In the mean time, welcome to the Waltzingmouse Stamp of Approval Parade – it's my first one too.  The theme is Christmas and what the design team is doing is showing you additional ideas that you can do with some of the Waltzingmouse Christmas stamps.  It may be quick gifts, a unique technique or a card.  The SOAP runs for four days, and at the end of that four days you can get involved and I'll have details on that as the week goes on.  Today I'm sharing a card  I think this has to be one of my very favorite Christmas stamps in the Waltzingmouse Stamps collection, Santa's Coming to Town.  I have to remind myself to emboss with cream or white — I don't know why I don't think of if but I love the look – it gives it an old timey look.  So, since I'm kind of a background addict, in other words I love making my own, I used the Victorian Frippery Border to create a background.  It went down as smooth as silk even though I had about eight repeats to emboss.  Still, it only took about 15 minutes to create the background (heck I spend that looking for paper and often, much longer).  I encourage you to go back and revisit tried and true basic stamping techniques – they make for a solid card and many of them are timeless.

Need some inspiration?  Be sure to peek in to see what the rest of the designers are up to!!

Thanks so much for stopping by, I'm off to finish up and get ready for the Our Daily Bread Designs Blog Hop this morning.  By the way, I have a special treat coming on Thursday.  I have a frugal project that you can make in no time flat for Christmas, that your girlfriends will hug you for.  I hope you'll stop by to see on November 3rd – hmmmm, I just bet there might be something in it for you too.  You'll have to come see though!