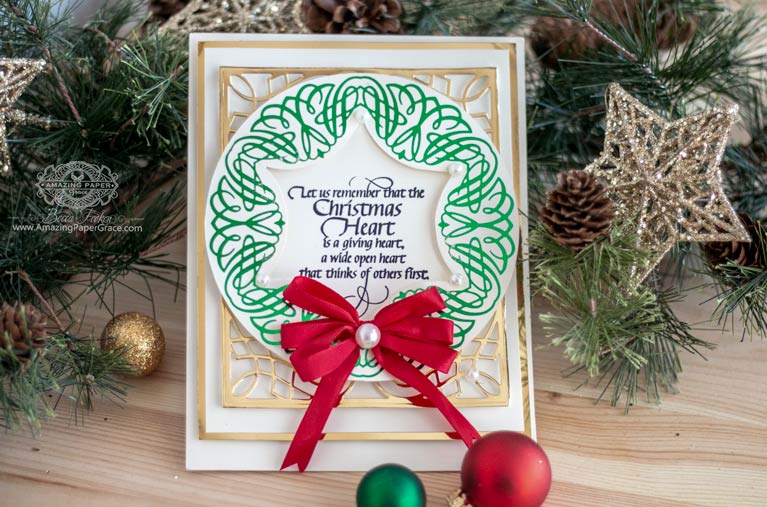 Sweet friends, I'm popping in today to share a card for the Christmas stash using an "everyday" glimmer plate – yes, the love for Spellbinders Glimmer Foil System continues! Stay tuned, at the end of my post, I'll share our blog hop prize winners. Plus, did you know I'm in another countdown?  Last month we released the brand new Amazing Paper Grace Die of the Month Club and it sold out fairly quickly!!  Well, guess what?
A new Die of the Month is coming in just three days!  I love this one, and hope you'll come back on December 1st to see what I've cooked up :-)
Using  An "Everyday" Glimmer Plate for Holiday Cards
For my card today I'm using the Glorious Glimmer Elegant Circle Glimmer Plate and I've layered it on top of A2 Corner Cotillion – it doesn't get much easier than that!!  It's what I call an "everyday" glimmer plate because you can use it to accent a holiday, a wedding, or simply to build layers in your cards – it looks great peeking out from underneath a die or another layer.  The calligraphic strokes of the design make it translate to almost anything.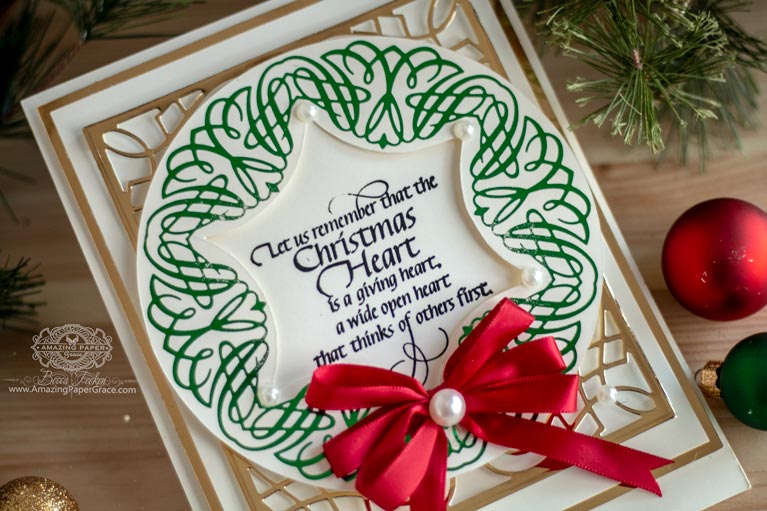 As you know, I'm extra happy to dabble with the new foils so I took one of my new designs and pressed it into Christmas use.  The Elegant Circle Plate so reminded me of a wreath so I cut out the center and added a bow. With the center cut out, it gave me a lovely frame and was the perfect shape to highlight a lovely Christmas Sentiment from Quietfire Design.
You might wonder how I cut this out because I'm not a fussy cutter, I'm just not!  Easy peasy, I dug through my stash for a circle die to cut out the outer ring and a circle cutter would do the job too.  Then I took a smaller circle die and pencil and traced the half circle arcs in the center of the motif by hand.  With the pencil marks, I couldn't go wrong.
Questions about the Glimmer System?  Check my post HERE for FAQ's.
Prize Winners
Now for the winners of the three dies given away during our recent Glorious Glimmer Blog Hop.  We drew straws to pick which three of 5 blogs the winner would come from then used a random number generator to get a pick from each of the three.  Here are the winners :-)   Please reach out to me within the next two weeks to claim your prize :-)
Rebecca Ednie who left a comment on Becca Feeken's Blog on November 22, 2018 – 6:45 pm
Victoria Luna who left a comment on Teresa Horner's Blog on November 21, 2018 at 5:37 AM
Mindy1414 who left a comment on Joanna Wizniewska's Blog on 25 November 2018 at 05:36


Stamps: Quietfire Design – Let us Remember
Paper:  Neenah Classic Crest – Natural White – Cover – 80lb smooth, Gold Foil Paper
Ink:  Versafine Onyx Black and clear embossing powder
Accessories:  Amazing Paper Grace Dies by Spellbinders, Spellbinders Foil System,  Glorious Glimmer Elegant Circle Glimmer Plate, A2 Corner Cotillion


Thank you so much joining us during our Glimmer Blog Hop last week.  We'll be stretching our Glimmer creativity over the next couple of weeks to come, so be sure to stop by as we share more.