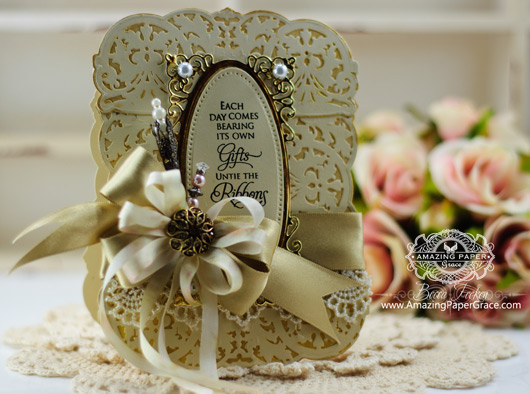 Sweet Blog Friends, I'm back again today!  Thanks so much for your kind words and prayers – as soon as our situation is resolved I'll share what I learned, in the meantime I know to be patient.  Today I wanted to share a subtle vintage card I created.  It uses one of the new A Gilded Life Dies by Spellbinders called Belgian Lace and was a great opportunity for me to get a little bit techniquey.  This die is a long textured border that you can either use for texture or it can be wholly cut out.  What I did is construct a card using four of the cut out borders, which when reassembled made the card look like a frame.  You can't really tell it's a frame because I simply covered the opening of the frame with my stamped sentiment.  The aged color in the crevices were put there by an ink pad.  I swiped my ink pad across the surfaces before running through my Grand Calibur and it embeds the color into the crevices.  I tried all sorts of inks and depending on the look you want, most any ink will work although pigmented inks and some chalks work better.  The absolute hero for this card is Imagine/Crafts –  Tsukineko's Delicata Ink.  Every time I ran the die through with 'this' ink, I found myself audibly oooohing when I uncovered the results.
The sentiment that I used was a from my Kit Club that is no more.  It's one of my very favorites and it was meant for this card :-)  Although the stamp set is not currently available, popular items seem to wing their way back from the attic so let me know if it's something you didn't get and would like to see.  I used Spellbinders Radiant Rectangles to frame up the sentiment.
Thanks friends!  You sure make crafting fun!!