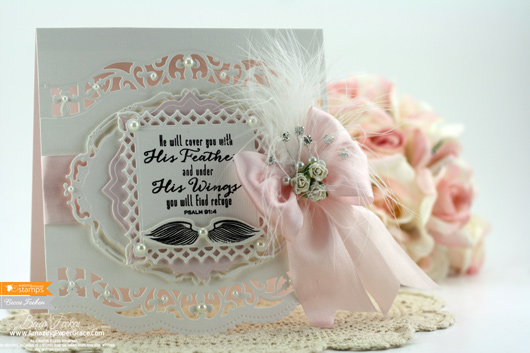 Sweet blog friends, so sorry for my absence.  Like most, I go through brief bouts of being overwhelmed and pushing to create and that's when I know it's time to take a couple of days off to rejuvenate.  It feels empty to make something just for the sake of making it – I love to enjoy the process and I really do craft from the heart.  This is from my heart.  I sat down yesterday with the Fine Feathers stamp set from Waltzingmouse Stamps that I added to my collection after last months release – truth be known, I had to have it.  Claire made sure it found it's way into my hands – thank you Claire!!!  It's been a week of introspection and this is a beautiful reminder, one I sorely needed.  It was my treat to sit down and create with such a beautiful thought.
I pulled a couple of dies together to layer and the card base is made as I've shown with the Filigree Hinged Card Tutorial using Spellbinders Scalloped Borders Two.  It was made that way so that the two borders used could be arranged on a flat front sheet and then joined to the back – I find it easiest that way.  I followed with Spellbinders Opulent Ovals, Spellbinders Labels Thirty Two and Spellbinders Captivating Squares.   The cut out from the borders made such an intriguing window that I lined the inside with pink.
Here's your Step-By-Step Recap, from the bottom up, just in case you'd like to make one too.  Start out with a card base cut to 5-3/4″ wide x 6″ tall.  Cut with Scalloped Borders Two before assembling, foam tape, die cut layer from white using Opulent Ovals, foam tape, die cut layer from white using Labels Thirty Two, foam tape, die cut layer from white using Captivating Squares.
SUPPLIES I USED
Stamps: Waltzingmouse Stamps – Fine Feathers
Paper: Masters Touch White Watercolor Paper (140 lbs), EK Success – Pink Viburnum
Ink: Versafine Onyx Black, Amuse Blush
Accessories:  Spellbinders Scalloped Borders Two, Spellbinders Opulent Ovals, Spellbinders Labels Thirty Two, Spellbinders Captivating Squares, May Arts Silk Ribbon, Prima Flowers, Recollections Pearls, Feathers from my stash, Becca's Bow Maker, Grand Calibur Die Cutting Machine
I'm working on a tutorial friends.  I think this week the jet lag got the best of me among many other things.  I'll be back in the saddle soon as I have lots of goodies to play with :-)