. . . as is the case with most of the things in my life, I ultimately have to be dragged, kicking and screaming.  It takes me a long time before I get the hint, heed the little whisperings in my ear or most of all, mount up the courage.  Well today I'll share with you one of those whisperings . . . Some time ago I shared a little tool that helps me make bows . . . I created my version because I wanted one so bad and it is now what I use to make most of my bows.  Not wood crafty in the least, I made a very rough, cobbled together "thing" that my sweet husband would have made for me if he were still alive.  He was proud of me, I know!  So many of you emailed me to ask where you could get one and now, with the help of Our Daily Bread Designs, they are being made available.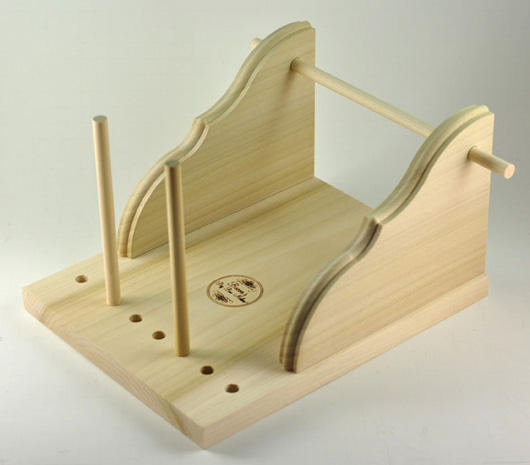 This is a very commercial post and I was nervous that it might offend some, but I'll ask you to remember that I give away practically everything.   Oh my how many times have I prayed about what to do!  When I lost John a year and a half ago, I really lost everything and have struggled to keep amazingpapergrace alive.  I was dead set about moving forward but several other companies jumped in and made their own version.  Given my situation, I've asked the Lords blessing to support my endeavor; I'm at peace with whatever the answer will be.  Mine comes from the heart.   I've put so much work into dreaming up the unique bows that can be made with the Peg Bow Maker and laying out concise, step by step, instructions and I want to keep dreaming.   So now you know the story; please keep it in your heart when you decide if this is a tool you might enjoy.  I've taken the liberty of putting the product specifics below and hope you'll be absolutely tickled by the fun, fun commercial I dreamed up for it.  It gave me a laugh when putting it together (that's what the stress of taking a step forward will do), I hope you'll laugh too.
What: Becca's Peg Bow Maker
Where: Will be available online at www.ourdailybreaddesigns.com
When:  Now on display at CHA, will be available for preorder afterwards
Contents:  Peg Bow Maker, 2 Pegs, 1 spool support, four screws/DVD
Instructions:   Video instructions for 6 unique bows – 2 new/not available on YouTube
Shipped:  Bow Maker is shipped flat with four screws for assembly.  
Size: 8.5″ wide, 10″ deep, 6.5″ tall.
Bows: 1″ wide by 6″ wide – pegs spaced 1″ apart and one peg with 1.5″ spacing.
Ribbon Size:  1/4″ ribbon up to length of pegs 6″
Should you want to get your name on the pre-order list right away,  here's the link!
http://ourdailybreaddesigns.com/BeccasPegBowMaker.html

The Peg Bow Maker previews below are selected clips from the video packaged with the bow maker.

I'll be back tomorrow! See you soon!