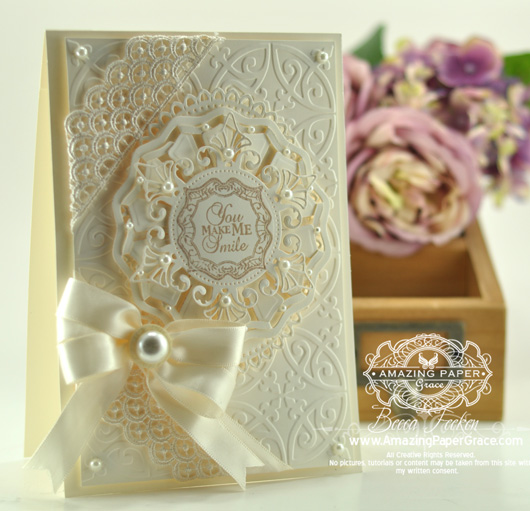 Hello there blog friends! You know how much I love tone on tone, so today I tinkered around to see how far I could take it.  Except for the taupe ink, I think I stuck to the plan!  Cream is my go to color but whether cream on cream or white on white, tone on tone makes my heart sing.  It's funny because when you take the design paper out of the equation, things get easy for me – not too many choices to make.  My inspiration was this new stamp set by JustRite Papercrafts called Botanical Swirls Labels.    I started out with a 5 1/2″ x 7 1/2″ card base and since I wasn't using design paper, I thought it a perfect opportunity to create texture with an embossing folder – Spellbinders™ Ornamental Iron.  On top of the texture I layered the smallest template from Spellbinders™ Grand Decorative Ovals One.  Moving up on the stack, you might find this odd, but I loved the dimension added by a Cut, Fold,and Tuck Die – this one is Spellbinders™ Carnival Dream.  Okay, just one more layer (like jenga) . . . on top I positioned the largest template from Spellbinders™ Venetian Motifs. 
Pearls bring just a little bit of a warm glow to the buttery hues of cream.
And then, because I very, very rarely have anything masculine to show, I set out to make a masculine bookmark.  As much as I wanted to, I resisted the urge for tons of layers – I mean the book has to close, right?  If there are layers and lace and bows, I'm afraid it defeats the purpose and perhaps doesn't get used.  I found a dark, distressed paper and paired it up with a hefty tassel that I got somewhere on ultra clearance.  I sneaked in one pearl and one embellishment but  I wouldn't hesitate to give this to one of my guy friends.  "Manly yes, but I like it too"  (don't pretend you've never heard that commercial old timers – I'm showing my age aren't I? LOL!
My heart goes out to the folks over in Lousiana; hoping tomorrow finds you safe and sound.  In the meantime, thanks for stopping by today!!