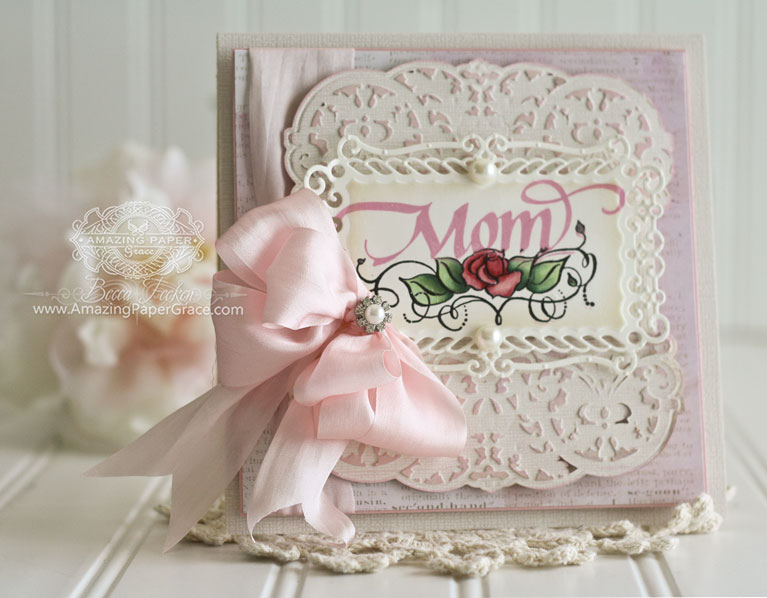 Hi there friends, I hope you're not tired of my experimentation yet.  So many times when I sit down there's pressure to get it done or I'm trying to use a certain die.  Well, sometimes that just doesn't work and you have to go where your heart leads – do yourself a favor and resist boxing yourself in a corner where you end up courting frustration.  I've made a Mothers Day card and am tipsy with pleasure over the little pillow box I created to go along with it.  Tipsy because it's so stinking adorable and it was so easy.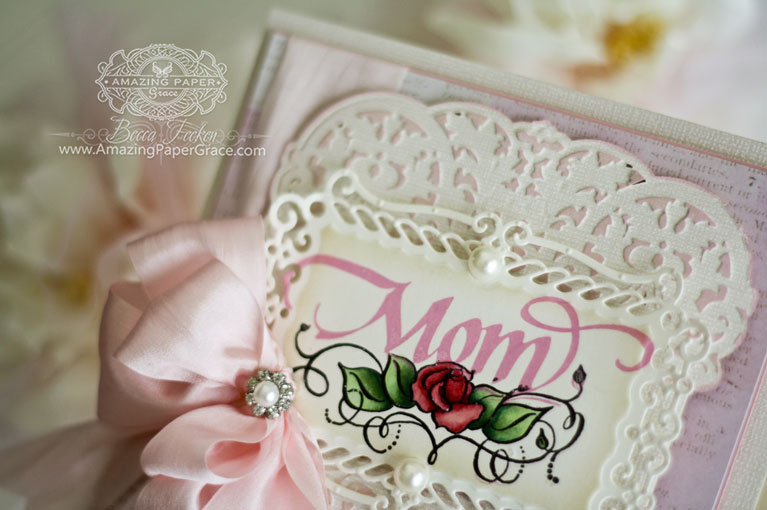 Six Degrees of Creativity
I can't tell you how many times I start out knowing exactly what I want to do but the result takes several turns and nothing but the tiniest thread from the original inspiration remains – I call this the six degrees of creativity :-)   If you've ever heard of the six degrees of separations – same thing!.  In this case, when things just aren't working take six or less creative jumps from where you started to get out of that rut.  A case in point is there is a die I was avoiding because I just couldn't make it do what I want – enter frustration, stage right.  While I hummed away at the crafting table last weekend I pulled out that die; clear of mind and pumped with joyful music, I would try again.  When it was all done, I realized I was on the wrong side of beauty.
The Wrong Side of Beauty
The die I'm using is Spellbinders Belgian Lace and the only part that is die cut are the outside edges.  The die is rich with relief, others would call it debossing.  I'm using Coredinations Washwash Paper and my first go was okay, but didn't work then I realized how much I was obsessing about the front of this die.  I flipped the die over and I'm working with the wrong side today.  I cut and embossed the die.  With the paper still in the die I sanded being extra careful not to touch any metal.  Next I blew off all the excess paper.  I picked a Fresh Ink Chalk Ink – Sugar and simply pounced the ink pad on top of the paper in the die and just once or twice.  So the key here if you want a fairly clean image, is don't even be tempted to swipe.  How simple is that?



How It is Made
You won't believe this but the colored Mom sentiment (from Quietfire Design) is one that was in my extra's pile.  I didn't think it was good enough for prime time when I stamped it last year – I didn't like how I colored it.  Well, fresh eyes, it seems okay to me now :-)  Here's how I put together the card.
On top of a 6″ square card base add a matted panel with design paper and an accent paper that is 5-1/2″.
Cut, Emboss and Color Spellbinders Belgian Lace as I've described above.
Create 1 panel by connecting both cut lace panels with card stock cut to 2-1/2″ and make sure the gap is at least 1-1/2″
Stamp and color Mom sentiment and cut/emboss with Spellbinders A2 Valiant Honor.
Don't forget the fluffy bow and pearls!
I'm Talking Ensemble
The other die I used is Spellbinders Pillow Box – cute dimensions 3″ x 3″.  It's a blank canvas just waiting to morph with details you use from any card – I'm talking ensemble here!  All I did was cut two pieces and use the Belgian Lace die – in that same 'Wrong Side of Beauty' manner I described above.  So then instantly I have a card and a box that picks up just a couple of the beautiful details from the card.  Win!  And I know the recipient will notice that tiny little detail.





 Rubber Stamps: Quietfire Design – Keep Calm and Call Mom Set
Craft Paper: Coredinations Whitewash – Picket Fence, Neenah Classic Crest – Natural White – 80lb Smooth
Ink:  Versafine Onyx Black, Ranger Super Fine Detail Clear Embossing Powder, Fresh Ink – Sugar
Accessories: Spellbinders Belgian Lace,  Spellbinders A2 Valiant Honor, Spellbinders Pillow Box, May Arts Silk Ribbon, Recollections Pearls, Copic Markers


Okay, before you command me to raise my hands and step away from the coffee, just know that I've been stressed and this little craft marathon has been better for me than therapy!  I talked to my mother last night and told her I was so blessed with a creative, productive, carefree day.  Please, please do this for yourself.  You are worth every minute you spend feeding your spirit!  Once you do, it's easy to pass it along :-)