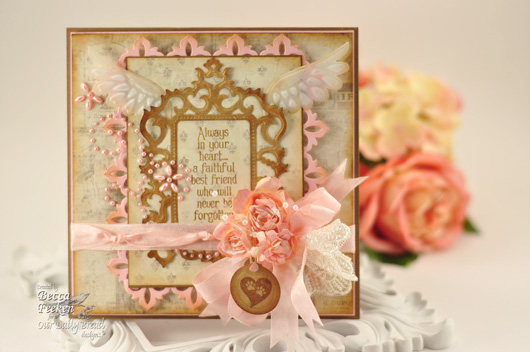 Happy day dear Blog Friends!  Today I have a new card to share and I have to say that as I made the card, I was swept with feelings of "real" empathy.  I say "real" empathy because in years past my naivety would allow to me to say that I understood how someone else felt when in reality there was no way I could really know how they felt.  There have been many "a-ha" moments spent once I have had the experience myself.  I'm sometimes embarrassed that I could even guess how one might feel.  One such time was when a co-workers dog passed away and couldn't come to work, she was under the weather for the day.  I didn't say a thing but I'm pretty sure I didn't realize how devastated she was.  I never had pets as a child, but was fortunate to take in a rescue as a newlywed.  Many years later when she passed away unexpectedly, I was w.r.e.c.k.e.d.   Looking back, I know I had not even been in the ballpark with empathy during my co-workers sad loss.  I was so glad when Our Daily Bread Designs created a sympathy set just for those occasions – today I used Dog Sympthy.  So many times people will say they were "just" a pet but I know otherwise.  We had "custody" of our daughters dog for several years.  She left her sweet companion with us because John had bonded with her and we're certain that it prolonged his life.   On many occasions she came to warn me when he was in distress.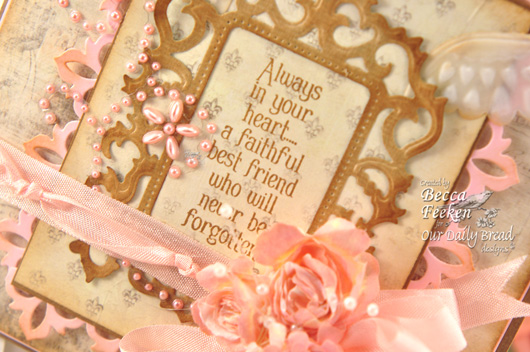 For my card I created a layered focal panel using Spellbinders™ Antique Frame and Accents and backed with the border from Spellbinders™ Damask Accents.  I used the wings from Spellbinders™ Home Sweet Home set, because I think the wings add a sweet personal touch and I love the tiny round tag.  I made these pretty little flowers for my last card using Spellbinders™ Bitty Blossoms — when they wouldn't fit, I knew I'd be able to use them as a cluster on this card.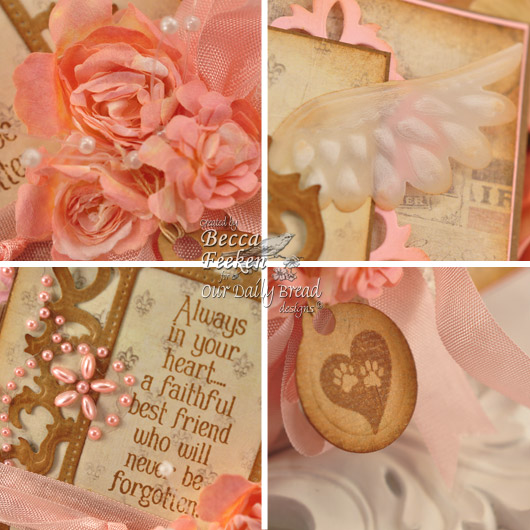 I seem to have this brown and pinky – peach colorway in my blood lately and I guess it's because I've been making so many flowers.  Well, and it's one of my favorites too.  I'll be moving on to different colors – thanks for hanging with me through this phase :-)

I'm hoping you had a fun and family filled weekend!   Sending blessings your way!